For some of the readers it might come as a surprise to see the headline for today's post. East coast of Peninsular India being the hottest place in the Indian Sub Continent is not a regular feature during the last week of May considering how hot NW India and adjoining parts of Pakistan is at this time of the year. After all Southwest Monsoon is in effect a large scale sea breeze phenomenon, the thermal low created by the summer heat over North West India, adjoining parts of Pakistan and central Indian plains creating the gradient for trade winds to blow into the Indian Sub Continent from the southern seas.
As a weather blogger one gets to learn every day, a combination of factors currently prevailing, has create a situation where the Eastern Coast of Peninsular India was the hottest region yesterday and is likely to be the hottest place today too, while Jaisalmer recorded a maximum temperature of 43.3ºC, not only Tuni from Coastal AP recorded 43.2ºC but nearly half of the hottest IMD observatories in the Top 10 hottest places of the country was from the AP & TS States indicating how Peninsular India was the hottest region in the Indian Sub Continent yesterday.
In all this the IMD observatory at Chennai AP quietly recorded its first 40ºC of the season under the influence of stiff Westerlies that ensured sea breeze had very little chance to move inland and give some respite until very late in the evening. With similar conditions expected one can see Chennai and suburbs see another day where afternoon temperatures stay close to 40ºC along with adjoining areas of North Coastal Tamil Nadu and nearby South AP Coast. Central AP and adjoining areas of Telengana will possibly see temperatures in the region of 43 / 44ºC as dry conditions prevail over Peninsular India.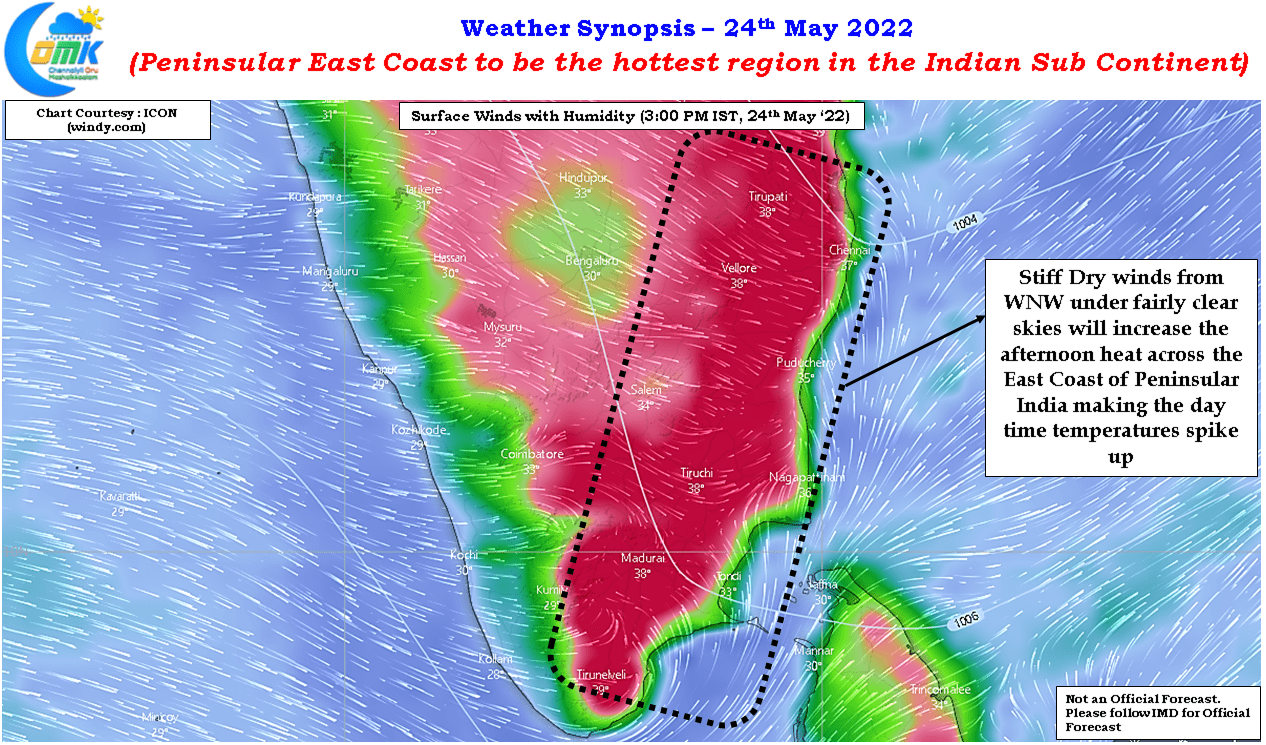 While satellite image indicates the overall dryness in over the Indian Sub Continent where Peninsular India is relatively cloud free while NW India and adjoining areas are under the influence of a fairly strong Western Disturbance that brought it severe thunderstorm activity over Delhi NCR and surrounding areas yesterday and likely to bring rains today too. This western disturbance has brought down the overall temperatures in the region giving some much needed respite and in the bargaining making the East Coast of Peninsular India the hottest region as relentless westerlies push the heat under what is likely to be another clear sky day.
On a slightly larger scale satellite image also indicates how the Monsoon dynamics may be below par due to the East Moving MJO bringing forth the suppressed conditions as the tail end of the MJO wave exits the Indian Sub Continent. The next couple of weeks does not promise any extremly active spell of Monsoon for Peninsular India though thunderstorms may return over the interior areas due to break in monsoon like conditions that may exist.