With the first fortnight of April behind us, it is that time of the year to look forward to Westerly winds strenthening and making the seasonal shift in wind pattern from East to West. More often than not the pre monsoon disturbance triggers the seasonal shift in winds both during Summer & Winter Monsoon periods. With the long term weather charts not showing any major probability of a tropical disturbance over the North Indian ocean for the next couple of weeks we need to see if the strenthening of Westerlies due to the UAC that moved from Bay of Bengal to Arabian sea over the last few days is a temporary phenomenon or permanent seasonal change of winds from East to West.
The UAC moving into Arabian Sea has also brought an incidental benefit to interior areas of Peninsular India giving them a window of opportunity with evening thunderstorms which until last week were predominantly seen closer to the Ghats & near the West Coast. Places like Erode, Tiruppur, Namakkal, Salem etc have been seeing increased thunderstorm activity for the past 2 / 3 days because of this strengthening of Westerlies.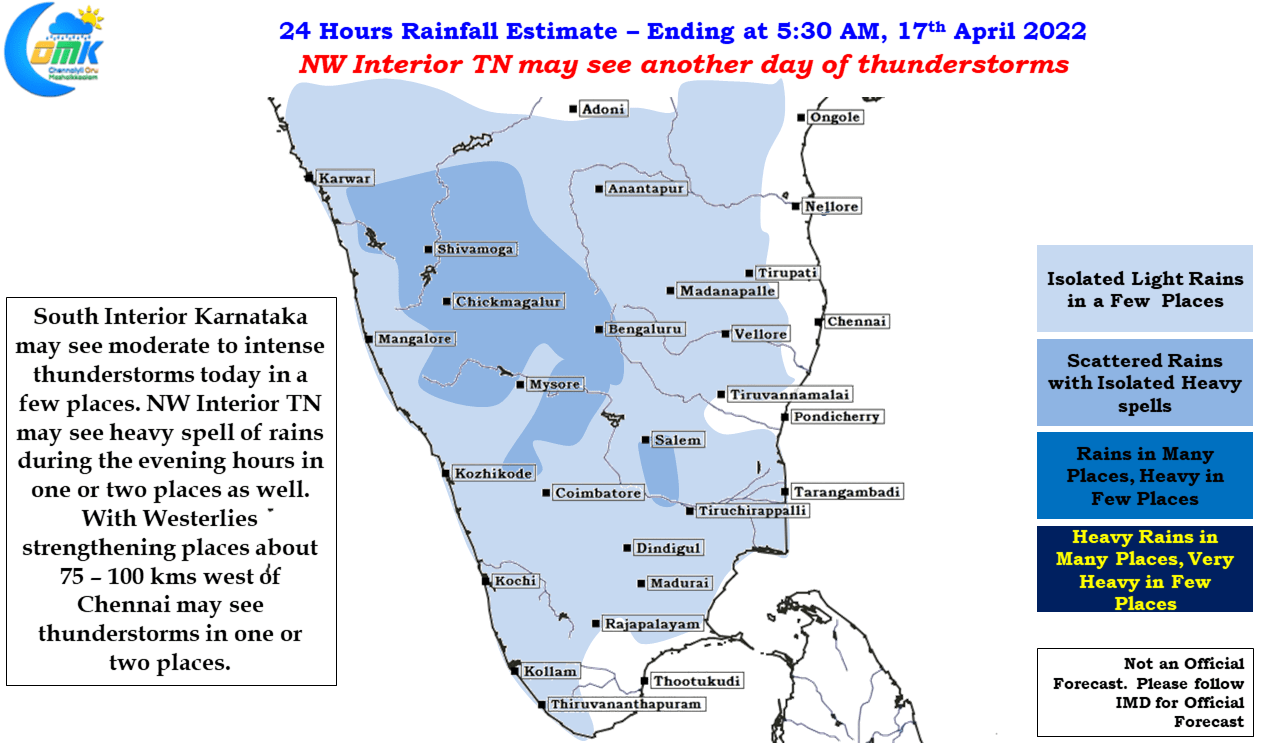 Today is likely to be no different with weather models indicating South Interior Karnataka & adjoining parts of Tamil Nadu will possibly see another stormy evening with few places in line to receive heavy spell of rains. Not only NW interior TN there is a slight chance places as close as about 75 to 100 kms West of Chennai may also see some light to moderate thunderstorm activity during the evening hours. While on Chennai, apart from increased day time temperatures and hot, humid afternoons there is not much in weather for Chennai & Suburbs over the next couple of days.