One might be surprised to see the headline of today's post nearly two weeks into January and when pretty much rains have mostly eased over places like Chennai. It is common knowledge that while there are clear and established protocols for not only onset but also withdrawal of Southwest Monsoon according to IMD as far as Northeast Monsoon goes there are no clear established guidelines for both even though it is essential for long term research proper established protocols are created for the winter monsoon as well. While one does not accuse IMD of announcing onset and withdrawals haphazardly or to suit conveniences it is essential for research in the context of climate change protocols are clearly established.
The statistical Northeast Monsoon season ended on 31st December with a total rainfall accumulation of 445.6 mm against long period average of 443.3 mm. The first ten days of January has so far brought about 0.4 mm of accumulated rains against the long period average of 6.5 mm indicating how since the turn of 2023 the rains have reduced over Peninsular India. While IMD has not announced the withdrawal of Northeast Monsoon yet the satellite image and wind charts does indicate a great reduction in moisture not only over Peninsular India but also south Bay and adjoining areas of Sri Lanka indicating cessation of monsoon dynamics over the Indian Sub continent. The tropical convective development is also seen around and south of Equator with not much convection seen to the north of Equator.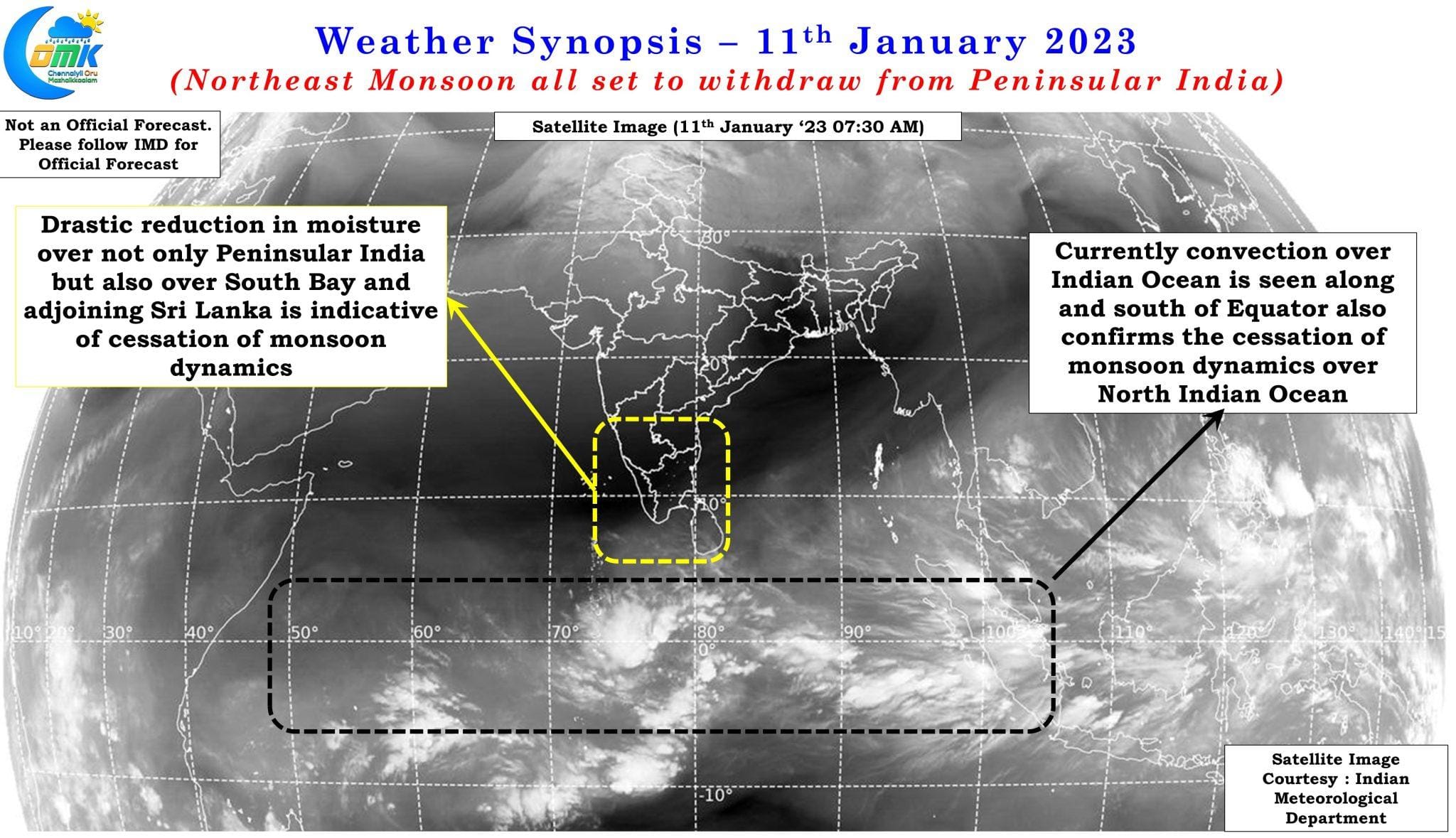 The last couple of days have also seen a reduction in the night time minimum temperatures across Peninsular India with interior places in particular seeing a marked reduction in temperatures with minimum temperatures staying a couple of degrees below normal. With North Indian Ocean seeing an overall suppressed state of atmospheric dynamics in the absence of any favorable planetary / tropical wave the seasonal high pressure over parts of Peninsular India has brought about continental winds over interior areas of Deccan plateau and adjoining parts of interior Tamil Nadu bringing about a dip in temperatures.
Weather models are consistent about further dip in night time temperatures as we get closer to Pongal / Sankaranthi festival with most models indicating night time minimum temperatures on Sunday expected to be 4°C or 5°C below normal and the minimum temperatures in the plains of Tamil Nadu going as low as 15°C / 16°C during the weekend. Coastal areas like Chennai and suburbs are also expected to see a marked dip in temperatures during this time though it may not be as pronounced as the interior parts of Tamil Nadu. Effectively this period is likely to be the first active spell of winter conditions for Tamil Nadu and rest of Peninsular India.