The last few days have seen Southwest Monsoon in beast mode bringing extreme rains over many places along the Western Ghats triggering landslides & floods over parts of Nilgiris, Idukki, Kodagu districts. After scoring multiple centuries Avalanche finally decided to stop at a single century recording just 108 mm for the 24 hours ending today morning which is some good news. But not far away Devala scored another tirple century today which pretty much sums up the impact of trapped moisture that could result in sudden burst of rains.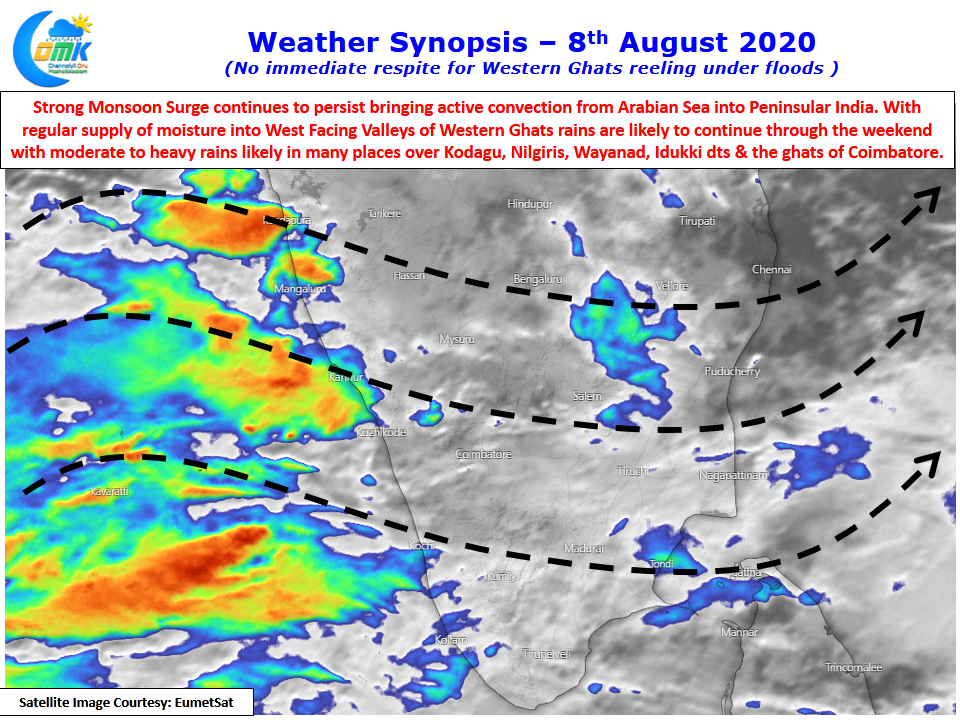 The Cauvery dams in Karnataka are all recording heavy inflows leading to more than 15 TMC cumulative storage increase in Hemavathi & KRS dams in just 2 days time between 5th & 7th August. With weather models indicating the current active spell of Monsoon likely to continue for another couple of days over Peninsular India the rains are unlikely to reduce drastically over the next couple of days for the disaster management team to focus on Relief & Rehabilitation of people affected by landslides & Floods.
The next couple of days could see moderate to heavy rains continue over most parts of the Western Ghats all the way from Maharashtra to Tamil Nadu though extreme rainfall episodes like the past couple of days may not happen. But with the soil soaked with moisture upto the brim even a moderate spell of rains may not be good news for the region at tenterhooks.
We could see gradual reduction of rains from Monday with middle of next week promising some good reduction in rains. Till then its going to be nervous wait for those people.