In a season of freak weather pattern thanks to the super El Nino this year most parts of Northern Hemisphere are reeling under abnormally high temperatures.  Most parts of Western Europe and the Northeast region of N. America is seeing some record setting maximum temperatures for this time of the year.
2015 has been setting the warmest temperature records month after month and is likely to set the warmest December seen as well in all probability. While Chennai saw freak rain events happening this year during the Northeast Monsoon there are other places that is also seeing the impact of El Nino in a different form, abnormally higher than normal temperature, some places setting the warmest temperatures recorded ever for December.
As one  could observe from this chart courtesy NOAA, almost all of East US has seen new Christmas Eve temperature records set or recorded once again. In a few instances yesterday's temperature has broken records set in the 19th century.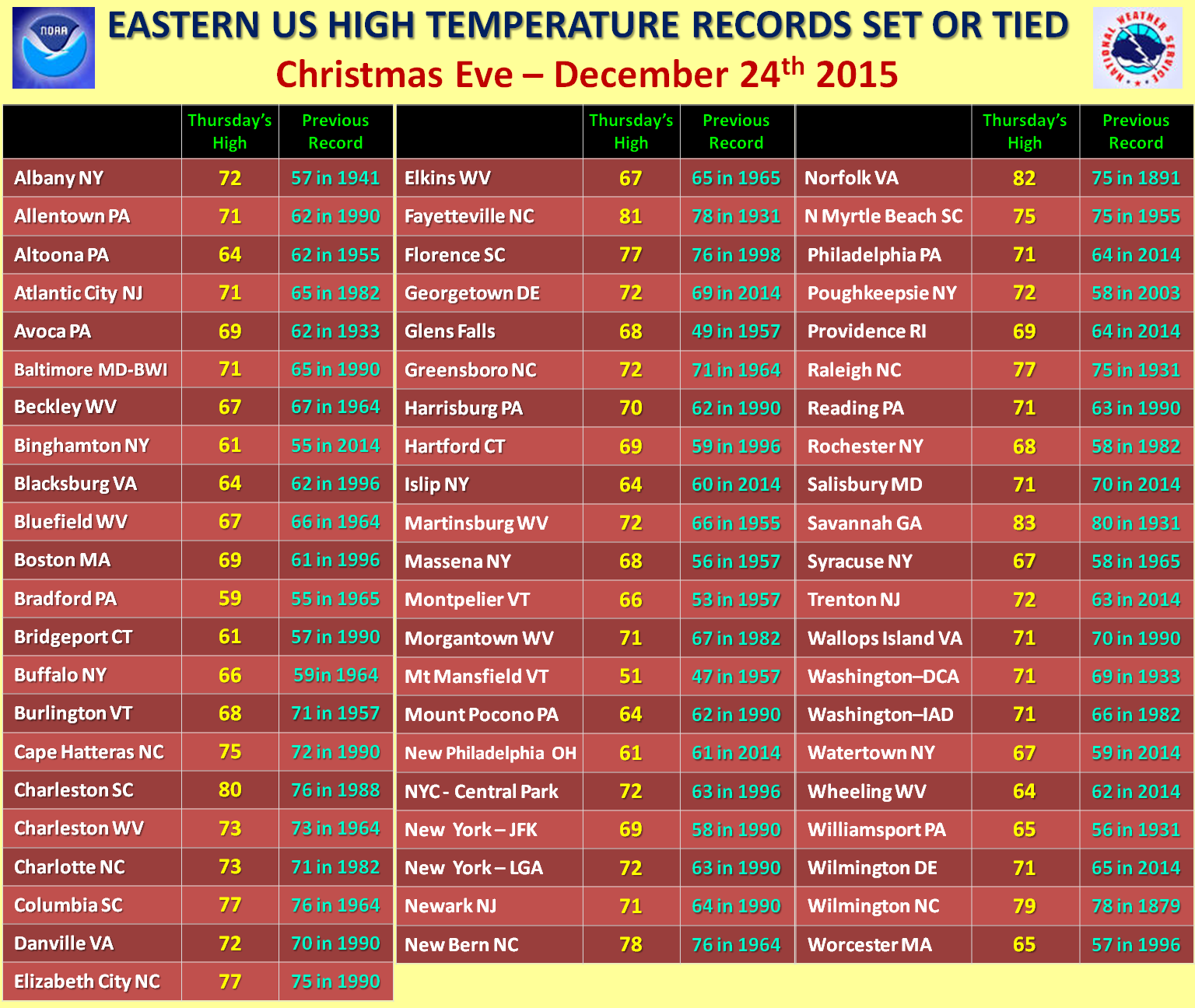 All this means it is almost spring like conditions over many parts of Eastern Coast with pretty much the prospect of White Christmas knocked off by temperature pattern altered possibly by an extremely strong El Nino phenomenon.  If one goes by the temperature anomaly it is pretty obvious Eastern Coast is seeing a repeat of the extremely high temperatures seen a couple of weeks back 
Thanks to El Nino the wind patterns & Jet Streams are altered with the Western Areas seeing  lesser than normal temperature and more snowfall compared to average while it is opposite on the Eastern Side www.accuweather.com/en/weather-news/snow-drought-eastern-us-el-nino-mild-air-weather-west-alaska-snowy/53995892
In Weather news Closer to home, it is going to be a Dry Christmas for most parts of Tamil Nadu with 5th consecutive Nil Rainfall Day expected today. There is a Trough of Low near Andaman Islands which is expected to move in a more West / Southwesterly direction towards Sri Lanka.  There is a small chance of some passing showers over the coastal region of Tamil Nadu this weekend but it looks like mostly it is going to be light rains with some passing showers for parts of North Coastal TN tomorrow night.  We will continue to monitor and update this as things evolve.