IMD announced the onset of Northeast Monsoon over parts of Tamil Nadu yesterday bringing a cheer to many a weather bloggers.  Indicative of the fluid atmospheric dynamics the onset was announced only over South TN, Coastal TN along with South Kerala & South Coastal AP while the rest of the interior TN, South Interior Karnataka & rest of Kerala will have to wait another day for onset.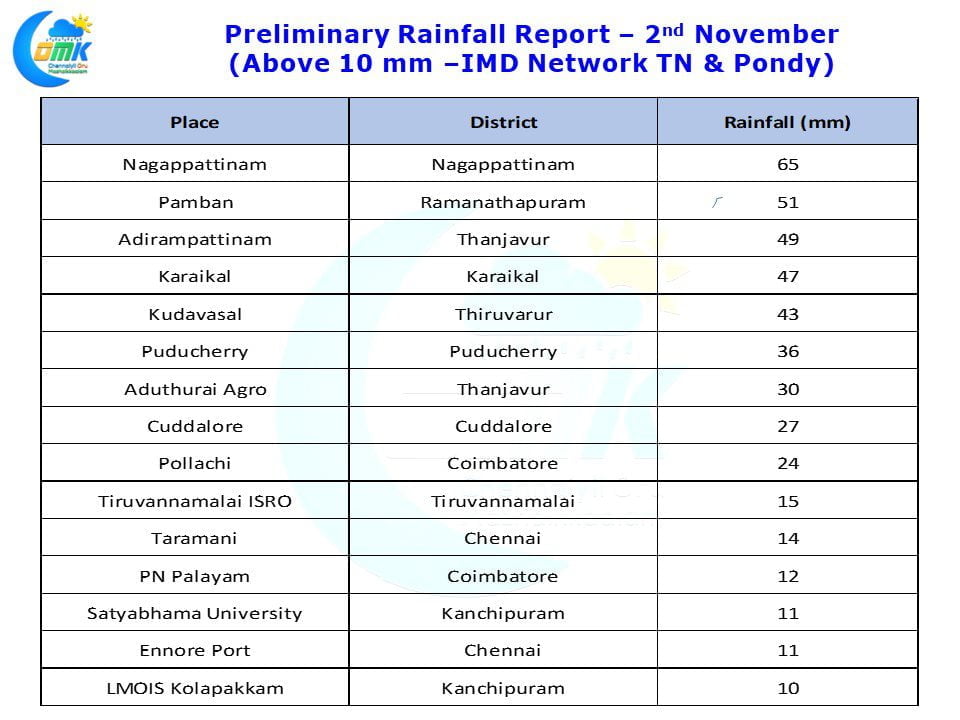 If Wednesday saw Chennai and adjoining areas record the heaviest spell of rains yesterday saw the rain bands shift more to the south as late night rains started happening in delta areas which is continuing as the post is being typed. Nagappattinam, Thiruvarur, Thanjavur, adjoining parts of Karaikal district along with parts of Cuddalore districts got the best spell of rains.
While the talk is about the Monsoon onset it makes sense to take a look at a slightly broader picture. This will give us an idea on how things could evolve over the immediate future considering the models are showing diverging outlooks over the next 48 – 96 hours.  There exists two clear area of disturbances along the Equatorial waters aided by the Rossby wave influence.  With MJO expected to move into Indian Ocean soon we are likely to see a case of an organized disturbance coming out of these two areas.  Depending on which one develops the monsoon path will accordingly diverge and vary.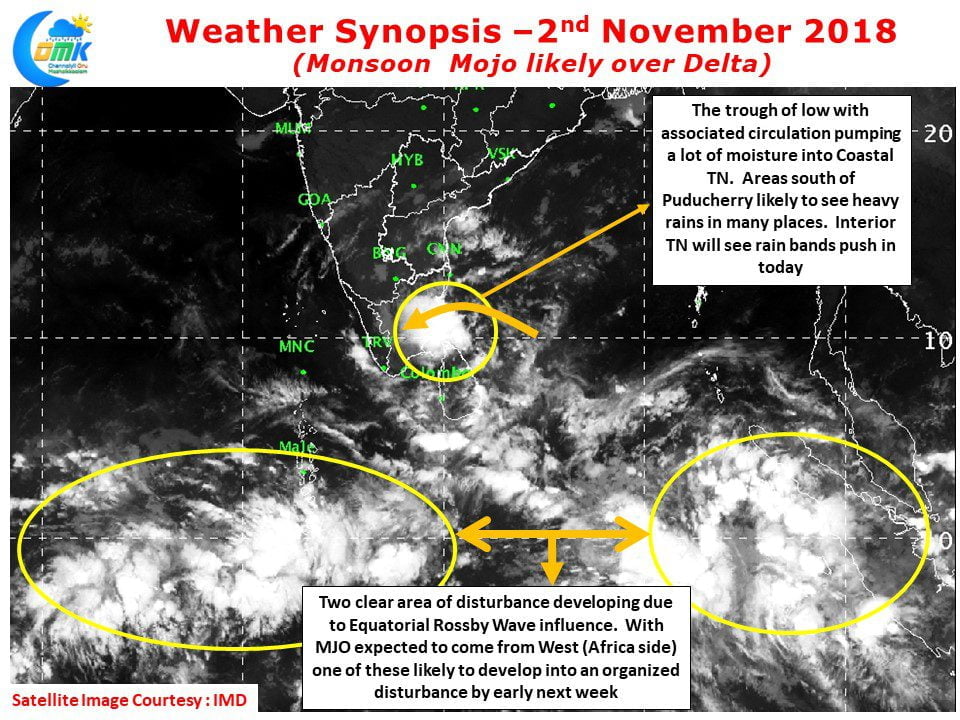 The trough of low with associated circualtion is ideally placed for circulating the moisture over Delta districts & South TN areas.  This will result in heavy rains over many places of Delta & few places of South TN today.  With the wind speeds still not reaching to classify proper monsoon surge these rain bands are likely to move very slowly as has been the case for the past couple of days.  This is likely to result in huge dumping of rains in a few areas along the coast. Interior areas will start to see increase in rainfall activity today as rain bands move further west.
As far as Chennai & northern parts of Tamil Nadu is concerned since the circulation is partly over land (Sri Lanka) the effect could be slightly limited compared to the last couple of days.  Nevertheless late evening / night could see spells of moderate rains as fresh convection builds after what is likely to be a clear day of sunshine during the early hours.  With additional sunshine some of the thunderstorms could develop a lot of intensity as they cross the coast.