Reading Time:
2
minutes
The last time the IMD observatory at Chennai Nungambakkam crossed 1 cms was for 24 hours ending 8:30 AM on July 17th '22. In this intervening period the IMD observatory at Chennai Airport though did record 19 mm and 31 mm on 17th & 18th August '22, ironically the 17th August spell was nearly a month after the previous instance of 1 cms or more spell at Meenambakkam. Overall though the theme has been subdued performance for Southwest Monsoon over the past few weeks for Chennai and southern suburbs over the adjoining Chengalpattu and Kanchipuram district. Interestingly Tiruvallur district is 28% above average as of yesterday.
In a similar case parts of Delta coast, erstwhile Nagapattinam district, including the Karaikal UT, excluding the recently carved Mayiladuthurai dt is seeing lesser rains though most places around Delta has seen a relatively good Southwest Monsoon season so far. While overall TN& PDC subdivision is nearly 69% excess pockets of the state and Pondicherry have seen sub par season. Southern Ghats has seen a poor season so far which is reflecting in sub par performance by Kanyakumari and Tenkasi dts whose numbers are mostly driven by windward stations.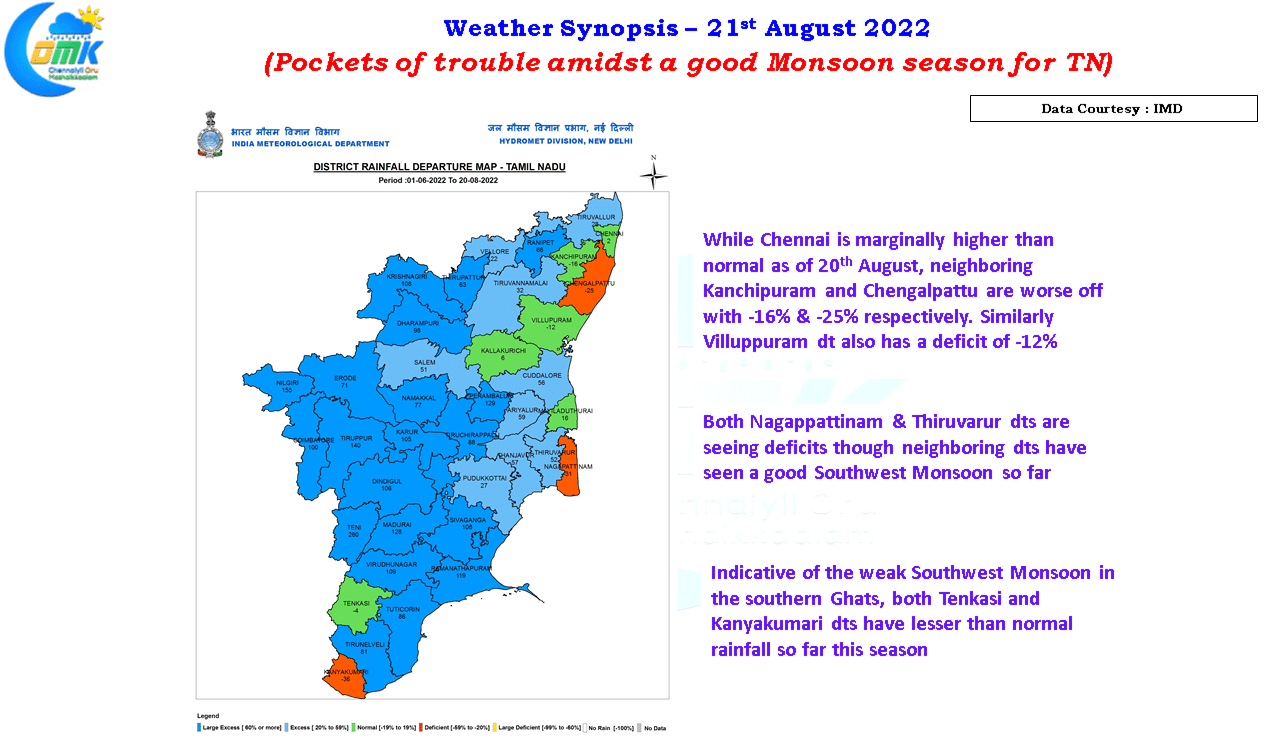 Yesterday and day before we saw thunderstorms reduce over the interior parts of Tamil Nadu with similar trend likely to be seen for the next 2 / 3 days until the current Depression lying over parts of Chhatisgarh and adjoining areas completes its life cycle. But the crucial thing for Tamil Nadu is with the western end of Monsoon trough already closer to the foothills of Himalayas once the depression completes its life cycle the eastern end also is likley to get dragged closer to the foothills bring break in monsoon conditions from early next week.
This could potentially trigger another round of active thunderstorm activity over interior parts of Tamil Nadu from Wednesday onwards. But before that today when the Depression comes along the same longitude of Tamil Nadu we might see thunderstorms in a few places over North Tamil Nadu due to wind instabilities. Chennai and suburbs also could catch a spell or two of rains from fast moving thunderstorms.