The announcement by IMD on Sunday confirming the onset of "Monsoon over Kerala" set of intense debates across many people not restricted to just weather bloggers and casual weather observers. One of India's well known private agency took the opportunity to see if a narrative about IMD being subject to the whims and fancies of individuals forgetting many times in the past they have tried to spin similar narratives to suit their own interests. Nevertheless for the overall benefit of Long term Climate Observations weather agencies including weather bloggers should be unbiased in accepting failures otherwise we will end up creating false narratives to suit one's own interests.
Meanwhile the last couple of days have seen thunderstorms show their presence in interior Tamil Nadu with places like Trichy enjoying two consecutive days of good rains. Similarly few places around Madurai also enjoyed good thunderstorms bringing relief from heat. The slowing down of Westerlies is one of the key reasons why these thunderstorms have been able to take advantage of the hot day time conditions seen across most parts of Tamil Nadu. Poor westerlies in turn create wind instabilities and wind convergence in parts of Tamil Nadu providing conducive conditions for thunderstorms.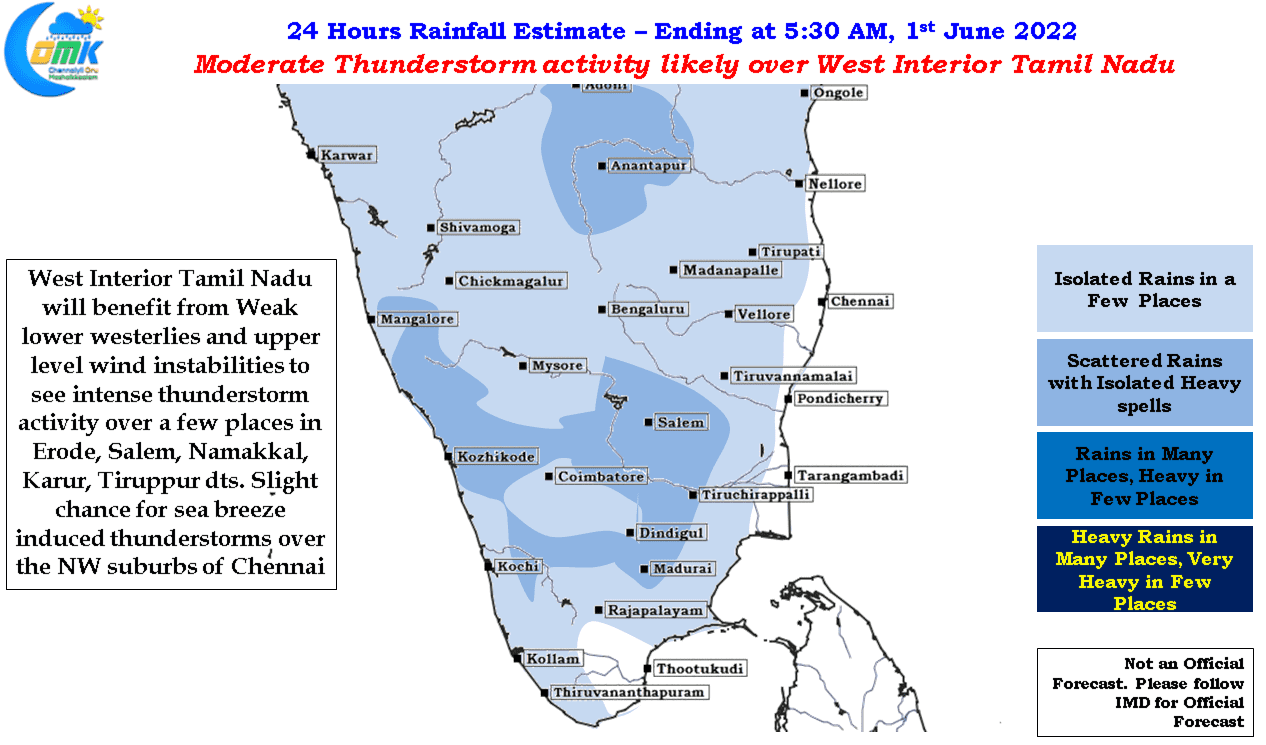 But for places like Chennai which typically see sea breeze play a major role in creating the conditions for thunderstorms have not had much luck with surface westerlies strong enough to deter sea breeze making an intrusion inland and creating the right platform for thunderstorms to develop. This also means North Coastal TN continues to be one of the hottest areas of the state with Chennai AP IMD observatory being the hottest OBS as well.
Today west interior Tamil Nadu, an area which typically sees strong westerly gusts and சாரல் மழை when Southwest Monsoon picks pace, is likely to benefit from thunderstorms due to lower level wind convergence falling on these areas and upper level wind instabilities supporting intensification of thunderstorms. After a couple of days of dry weather over Chennai and suburbs there is a slight chance the Northwest suburbs of Chennai may benefit from sea breeze intrusion and bring localized thunderstorm development to places around Ponneri / Red Hills etc benefitting from the presence of large water bodies in the vicinity. Week steering conditions mean the storms may not move much though.