Yesterday IMD confirmed the strengthening of the well marked low over South Bay of Bengal into a depression. Currently lying about 625 kms to the southeast of Nagapattinam and about 425 kms ESE of Trincomalee it is expected to move in a NW direction for the next 12 hours or so before drifting WSW towards the southeast coast of Sri Lanka for a landfall sometime later tomorrow. This would be only the 9th instance of a depression forming on or later 28th January during the winter season and would possibly become only the 3rd instance of a depression forming this late to make a landfall over either Sri Lanka or Tamil Nadu coast.
Yesterday rains returned over many places of Tamil Nadu with even the interior places of the state enjoying rains at many places. The TNSDMA station at Veeraganur, Salem district recorded 52 mm, highest in the state at the time of writing this post, with many places in surrounding Trichy, Karur & Perambalur districts also getting rains. The rains over the interior places in a way also indicate the interaction between moisture pushed by lower level easterlies under the influence of the depression and the mid level westerlies created by a fairly strong mid latitude westerly trough that is passing through the Indian sub continent.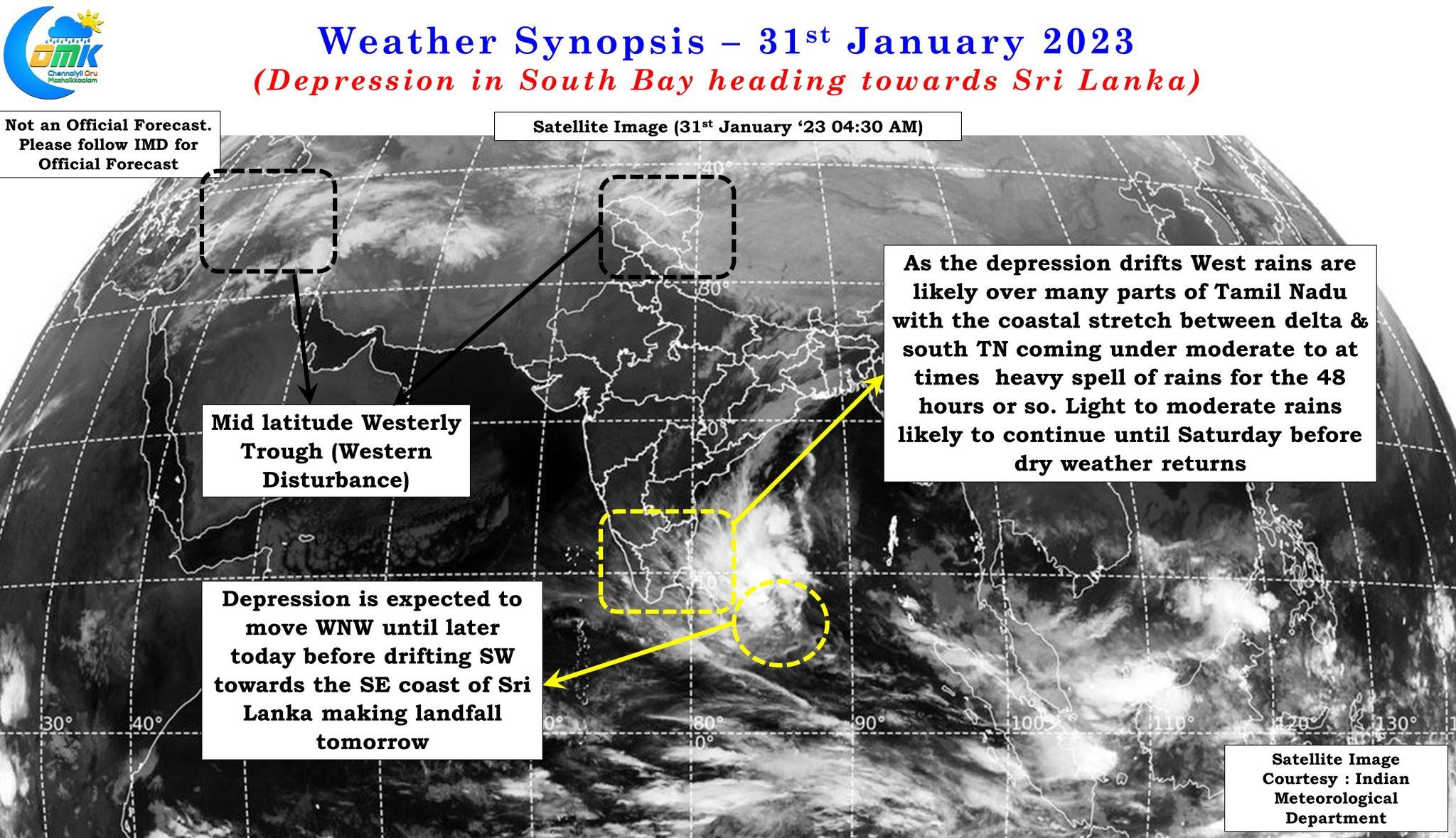 From today for the next 72 hours or so rains are expected to happen over many places of Tamil Nadu as the depression moves closer to Sri Lanka coast for landfall. The spell of rains from today until Saturday can be attributed directly to the effect of the depression and associated moisture pushed by the Easterlies while yesterday's rains was more an interplay between Easterlies and Westerlies. Consequent to direct influence by the depression we can expect the coastal stretch between Chidambaram and Thoothukudi to come under moderate to heavy rains over the next 48 hours or as the circulation moves further WSW on its way to the equatorial waters of Arabian Sea. Once the circulation moves away we can expect the rains to reduce from Friday or Saturday onwards to greatly reduce.
One or two places over delta coast and around Ramanathapuram , Thoothukudi and Tirunelveli districts may see fairly heavy rains. It may not come as a surprise if one or two places accumulate as high as 10 cms of rains in the next 48 hours during this period though overall we could see most places in delta coast and South coastal TN accumulate between 5 to 7 cms of rains.
Chennai and suburbs may see light rains during the morning and late night hours until Thursday morning with moderate spells at times in a few places sometime later tonight or early tomorrow morning.