Yesterday IMD announced the formation of a Low Pressure Area over Southeast Bay of Bengal and adjoining East Equatorial Indian Ocean. Not often one gets to see a tropical disturbance at this time of the year though during La Nina years it is not exactly uncommon. With IMD expecting the low pressure to become well marked and intensify into a depression around 1st February it could become only the 7th instance when a depression has formed over North Indian Ocean during the month of February. Except for one instance when a cyclone made landfall over North TN coast after peaking up to Cat 1 Hurricane strength during the year 1944 most of the disturbances have been around the lower latitudes closer to equatorial waters.
The low pressure area as mentioned is expected to become well marked as it continues to move in a WNW direction towards the coast of Sri Lanka. Ensembles are fairly in tight agreement about this disturbance moving in a WNW direction and crossing the southern parts of Sri Lanka while continuing its journey further west along the Equatorial waters pushing into the southern parts of Arabian Sea next week. In a way the bulk of the rains are expected to stay over Sri Lanka due to this WNW direction rather than a more NW direction. The 1944 cyclone took a more NW direction heading towards the TN coast but even in that instance the last leg was a more WNW movement indicating the large scale dynamics at this time of the year which favors a more WNW track.
Interestingly while on the one hand we have a developing low pressure area the train of mid latitude westerly troughs will once again play an influencing role in bringing rains over Peninsular India. Western disturbance currently seen over Iran / Pakistan may interact with the lower level easterlies as it passes through the Indian subcontinent bringing some rains over parts of South India on Monday. This spell of rains in principle would be of different nature compared to the rains that are likely to happen subsequently towards middle of next week.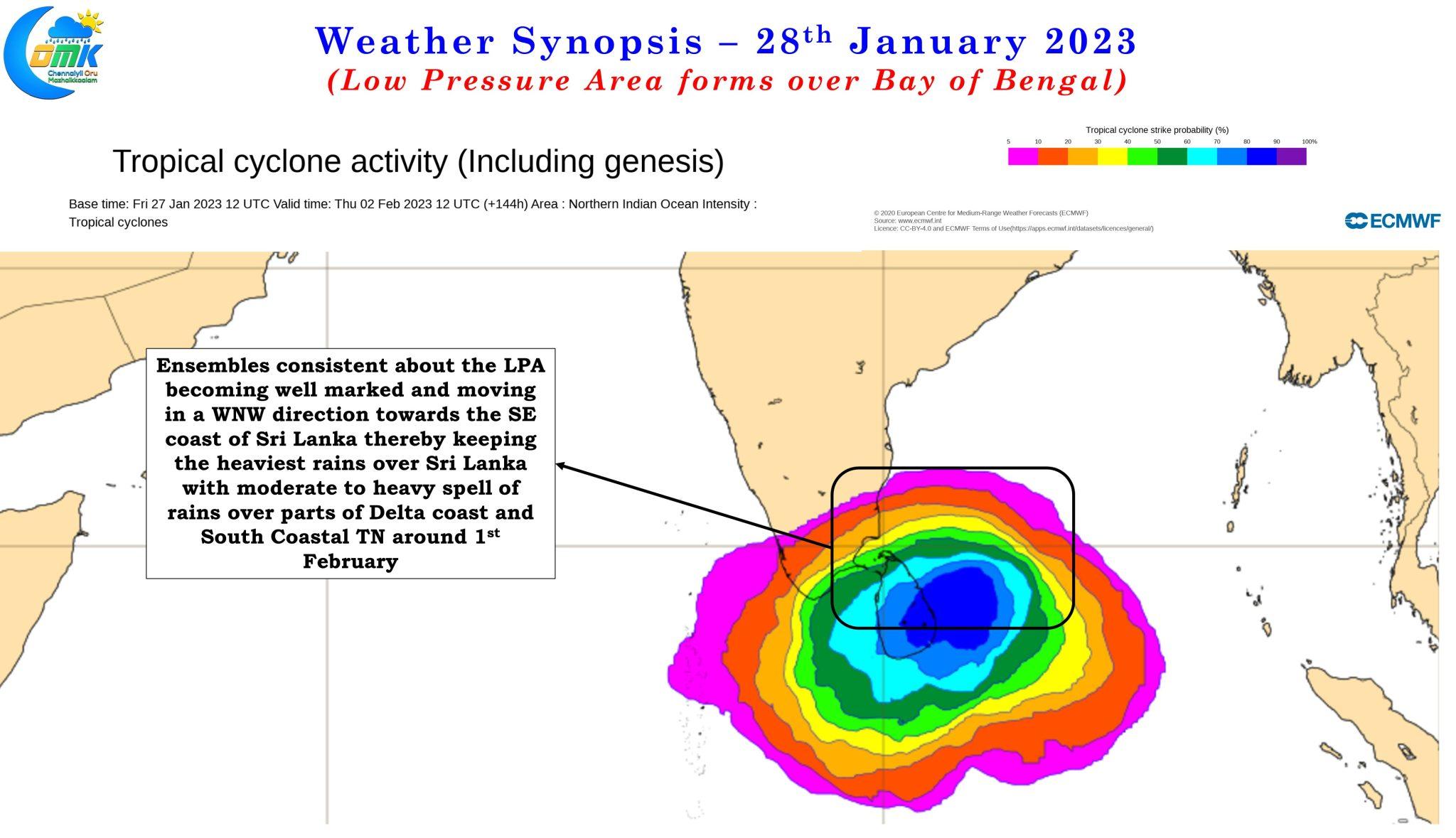 That spell of rains during middle of next week could be influenced by the WNW movement of the strengthening LPA which will increase rainfall activity over delta coast and south TN as it moves closer to the Sri Lankan land mass. During this phase of rains due to the track and movement of the disturbance North TN may not receive much rains though the earlier interaction between mid latitude westerlies and lower level easterlies could potentially bring about moderate rains over one or two places of North TN.
This spell during middle of next week may bring moderate to heavy spell of rains over parts of delta districts which needs to be watched out and farmers are advised to take adequate precautions while undertaking their harvest activity.