Tamil Nadu continues to see one of the best Southwest Monsoon periods in recent times as it touched 30% excess as of yesterday clocking its 6th day of Daily Mean Rainfall exceeding 10 mm.  All of these days have come in August which is a noteworthy point.  While Sunday did not see the widespread thunderstorms that were seen on Saturday it did see its share of some intense storms around Vellore, Kanchipuram & Tiruvannamalai districts with the Southern suburbs of Chennai seeing extremely intense rains lash for 30 minutes or so bringing localized water logging around Mudichur areas.
Isolated rains are likely to continue in a few places of North Tamil Nadu today as well with Vellore, Tiruvannamalai, districts in line for one or two places getting moderate thunderstorms.  As has been the case parts of Chennai could see localized thunderstorm development in one or two places bringing some sharp spells during the late afternoon / evening.  Overall things could start to ease slightly as Monsoon dynamics starts moving back to the West Coast with possible disturbance evolving in the Bay.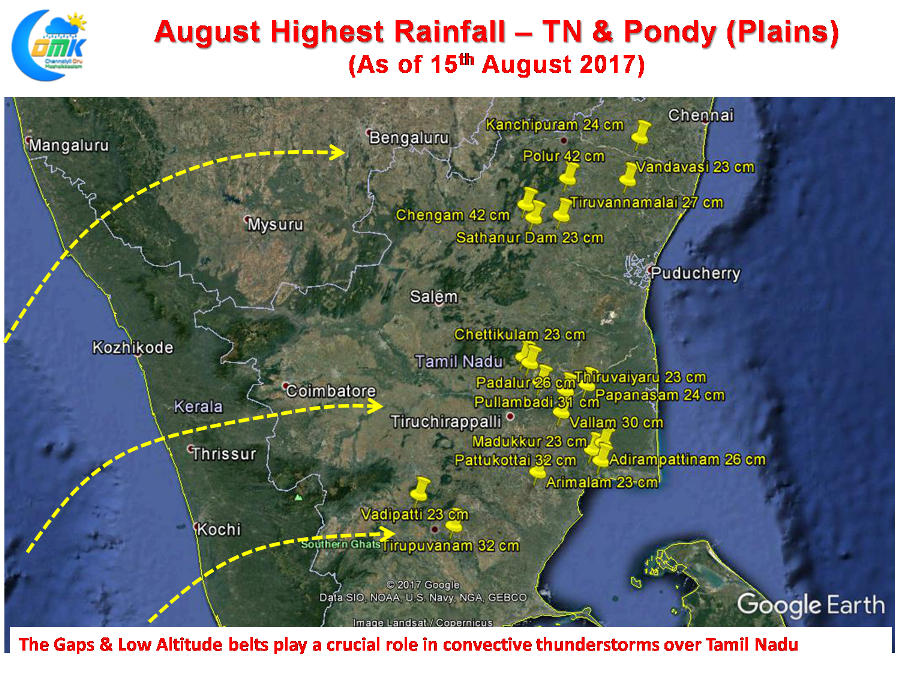 In the meanwhile for the month of August Polur & Chengam of Tiruvannamalai districts top the rainfall charts in the plains of Tamil Nadu & Pondy.  Both places have recorded 42 cms so far most of which in the last week or so.  If one were to represent the Top 20 places in the plains spatially its quiet clear the gaps, passes and low altitude dips in Western Ghats play a crucial role even for the convective thunderstorms indicating the overall monsoon dynamics in the entire process.
Powered by WPeMatico