While Northeast Monsoon made onset a week back on the back of strong Easterlies over Peninsular India for the past fortnight or so one certainly would not have thought Westerlies would have brought a very strong spell of thunderstorms over many parts of Delta after NEM Onset. Thanks to the convergence associated with pseudo Westerlies created by the Well Marked Low over North Bay many places around Delta & South TN recorded heavy spell of rains last evening.
Pamban in Ramanthanapuram district scored another century yesterday in what is turning out to be one of the best NEMs' in recent time for the place. Parts of Vellore, Kanchipuram & Tiruvannamalai district also recorded good rains. Though the thunderstorms eventually made it towards the coast around Chennai during the midnight hours the storms disbursed to the North & South of the city leaving just some light showers over most parts.
Satellite image shows the deepening of the Well Marked Low over Arabian Sea which is now expected to become a depression today and possibly intensify into a cyclone in couple of days time. This is likely to move along the Konkan coast for the next 24 to 48 hours before making a Westward shift as it intensifies into a Cyclone. During this period many places along the West Coast North of Kerala is likely to see heavy rains with isolated places seeing very heavy rains.
On the other side of Peninsular India the Well Marked Low in Bay now lies over North Coastal AP & adjoining parts of Odisha and is expected to move in a NE direction influenced by the incoming Western Disturbance. Over the next couple of days parts of East India & subsequently NE India is likely to see good rains with isolated heavy rains too.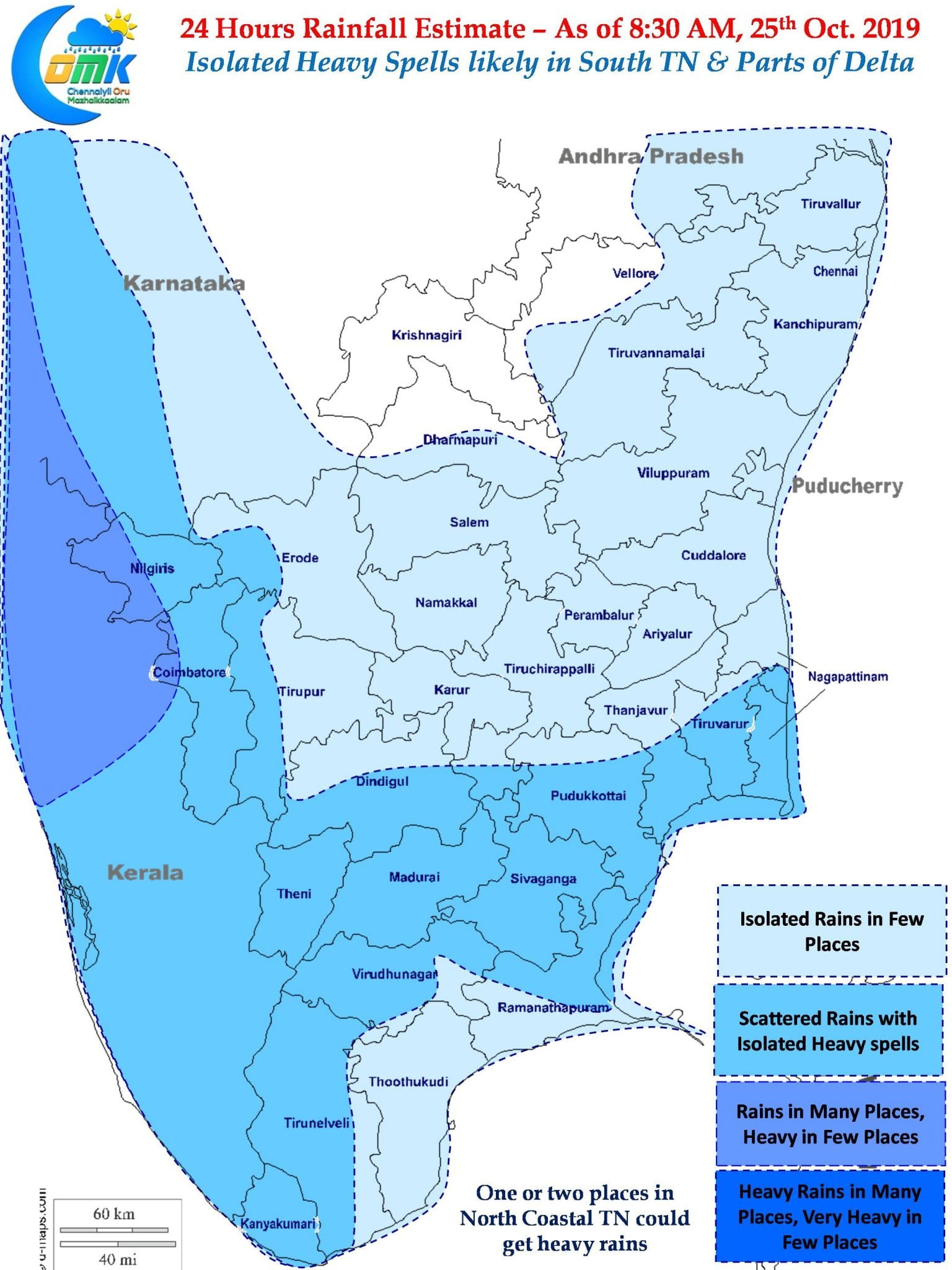 As far as Tamil Nadu goes its going to be mostly another sub par Northeast Monsoon day though few places in South Tamil Nadu & Delta districts could see heavy spells at times though it may not be for a long time frame. Light spell of rains may be possible in the rest of the coastal areas though there is a very faint chance of one or two places in North TN could see moderate thunderstorm activity later in the evening due to low level convergence.