With nearly 5 weeks gone since the onset of NEM 2019 the rains so far have flattered to deceive. In the absence of favorable tropical disturbances to enhance the rainfall pattern the spells have mostly been inconsistent spatially and also on the time frame. Except for the Low Pressure during the onset week there has not been any disturbance that has evolved into favorable position for Tamil Nadu.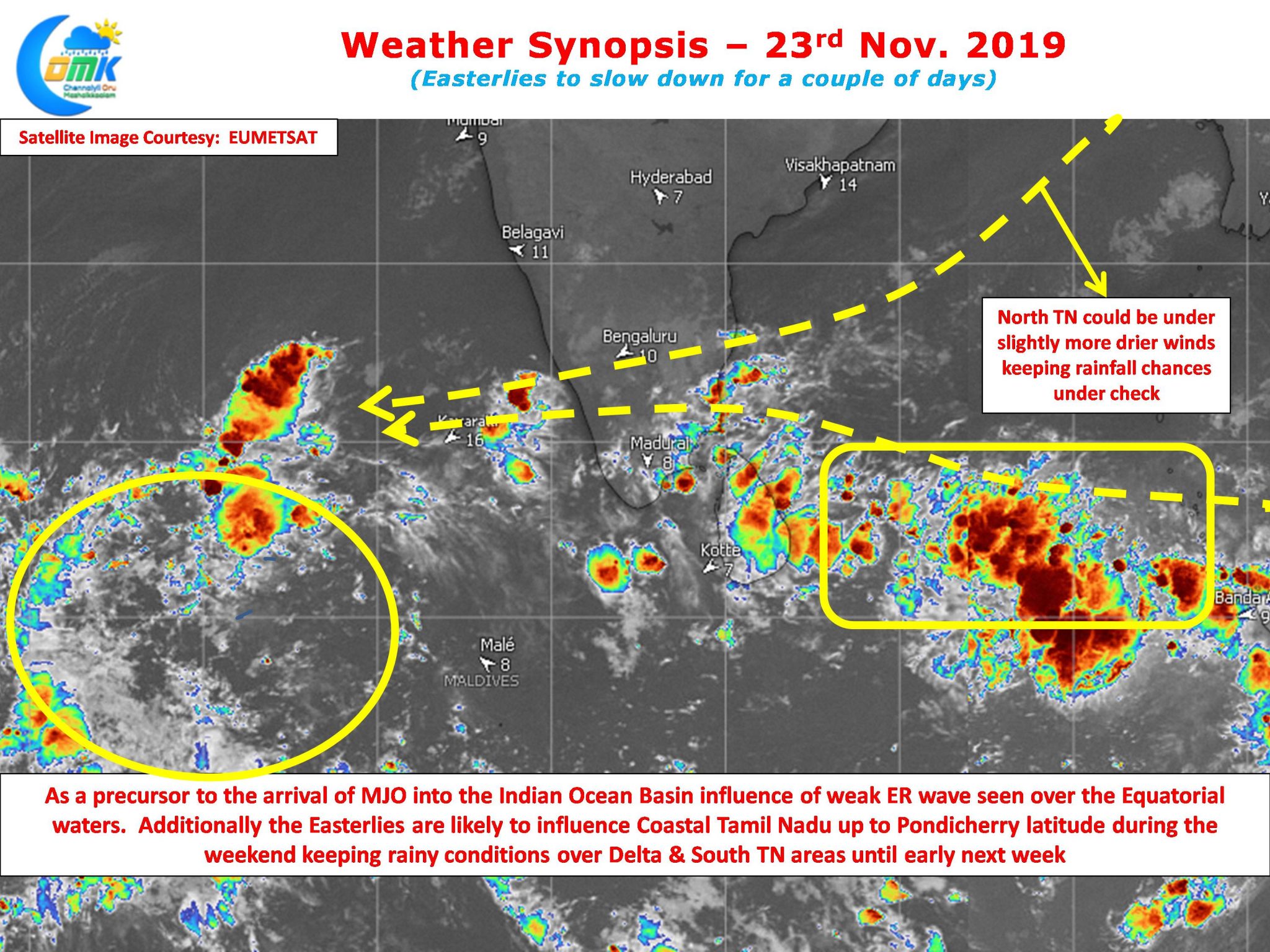 This is pretty much summed up by the performance of Northeast Monsoon over the delta districts all of which are seeing deficits exceeding 25% as things stand for this season. It is still not all gloom and doom though. As we get into the fag end of November & early part of December the disturbances tend to favor Tamil Nadu especially the low latitude disturbances evolving around South Bay. Weather models indicate one such active spell may not be too far away for Tamil Nadu.
The past 3 / 4 days saw moderate rainfall activity over Coastal Tamil Nadu with few places around Chennai getting good rains on Thursday morning. The wind charts indicate Easterlies to slightly weaken for a couple of days over the weekend before a strong surge is triggered from Pacific right in cue for the arrival of MJO. Equatorial waters are already seeing the influence of ER wave which also confirms the arrival of MJO may not be too far away.
From today we could see rainfall activity stay active south of Pondicherry latitude with South TN and delta districts seeing moderate rains. Today models indicate few places in South TN & along the Western Ghats may see heavy spells of rains due to trapped moisture pushed by the Easterlies. Chennai & Suburbs may see subdued rains until early next week before things pick up once again.