While most of the country continues to suffer from Monsoon taking a long break during peak period, Tamil Nadu continues to enjoy its evening thunderstorm season.  Thanks to the remnant thunderstorms that prevailed well into the morning yesterday was a much more subdued day compared to Saturday.  Thunderstorm activity was restricted to parts of Chennai and surrounding areas of Tiruvallur & Kanchipuram districts.
The highlight has to be KVK Kattupakkam, near SRM University, recording 54 mm rainfall along with Anna University & the TN PWD weather station at Taramani recording nearly 2 cms of rainfall from the sharp spells of rains that hit the capital of Tamil Nadu.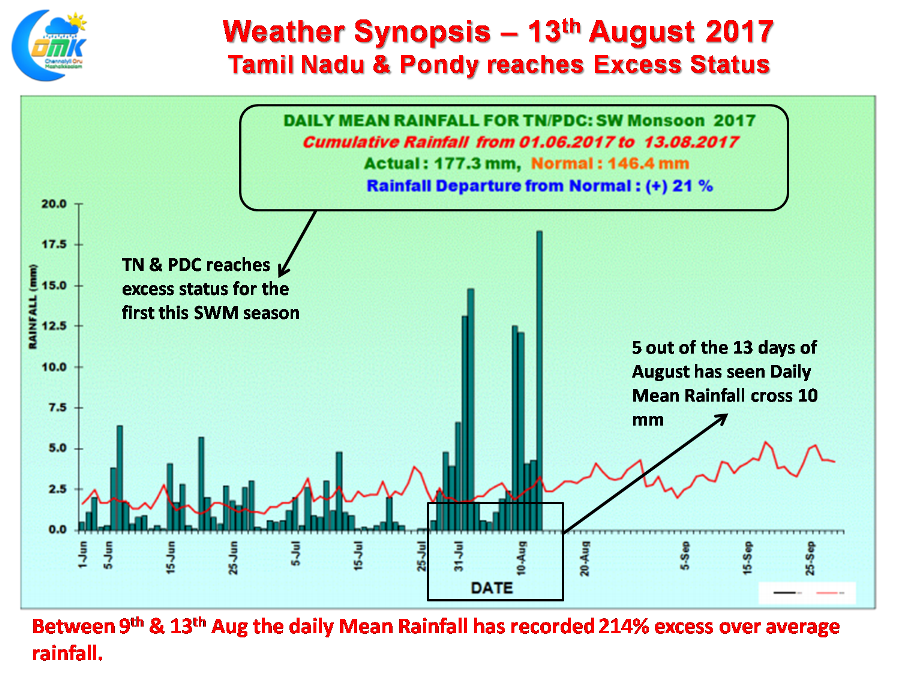 The last few days have indeed seen some of the heaviest spells of rains over Tamil Nadu & Pondicherry as the overall performance for the season in the sub division has now touched Excess status after reaching 21% more rains than long term average as of 13th August.  The sky scrappers in August pretty much confirms the show seen for the last fortnight over Tamil Nadu.  What is indeed an irony is the two core monsoon districts of Kanyakumari & NIlgiris has been seeing deficit conditions while overall the sub division is in excess indicating the lop sided nature of Monsoon 2017 over Peninsular India.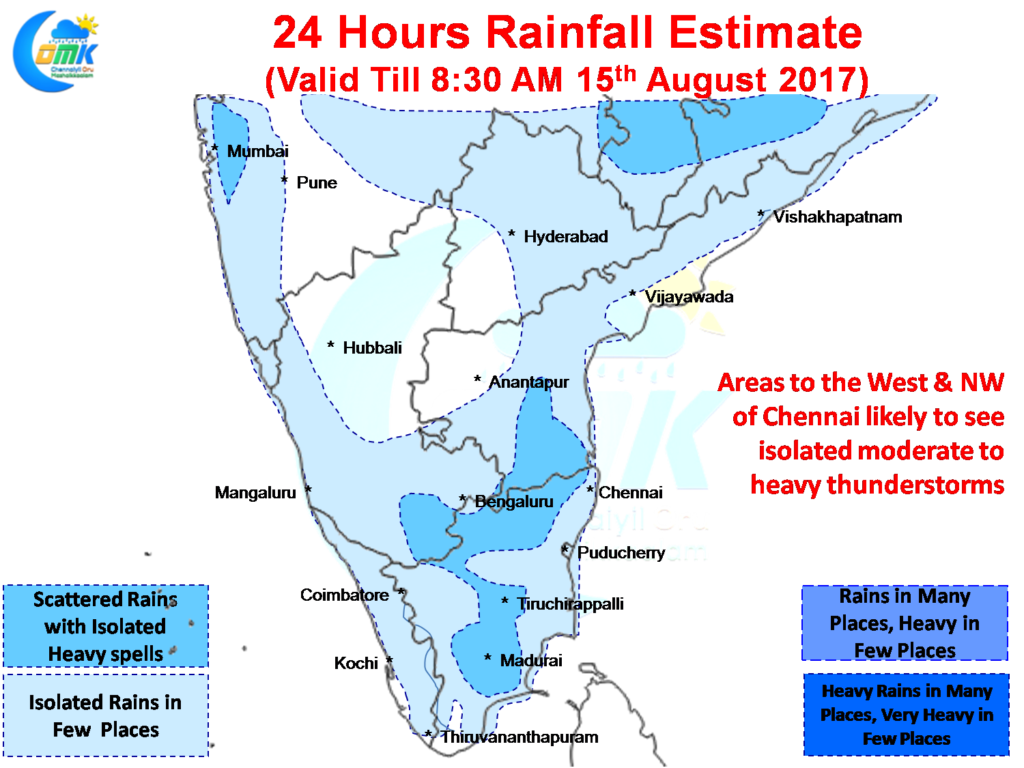 With a couple of atmospheric conditions continuing to persist over Peninsular India we can expect thunderstorms to happen today as well for many parts of Tamil Nadu.  The caveat is the dichotomy that is existing in the wind patterns which could possibly go against the coastal areas though we need to see how intense these thunderstorms can develop today. Chennai's probability will depend a lot on developments close by unlike the earlier days when storms that owed its genesis about 250 kms to the East making the journey to the coast.
In addition to the presence of the Upper Air Cyclonic Circulation off the coast of TN there is a likelihood of a lower level convergence developing later in the day to the W / NW of Chennai around Tiruvannamalai / Tiruvallur / Vellore / Chittoor districts in the interiors which will provide necessary trigger for the storms.  Similarly we could possibly see South TN also recording spells of moderate to heavy rains later in the evening around Madurai / Dindigul / Virudhunagar / Pudukottai / Sivaganga districts.
Powered by WPeMatico