While all eyes were on the landfall of Cyclone Titli over North Andhra Pradesh & Odisha coast yesterday saw abnormally hot weather across most of Tamil Nadu on account of the Westerlies influenced by the strong Cyclone Titli prevailing over our Northeast direction.  In a testament to its fury Cyclone Titli continued to retain a well structured eye even after landfall indicating the intensity increase that carried on until landfall.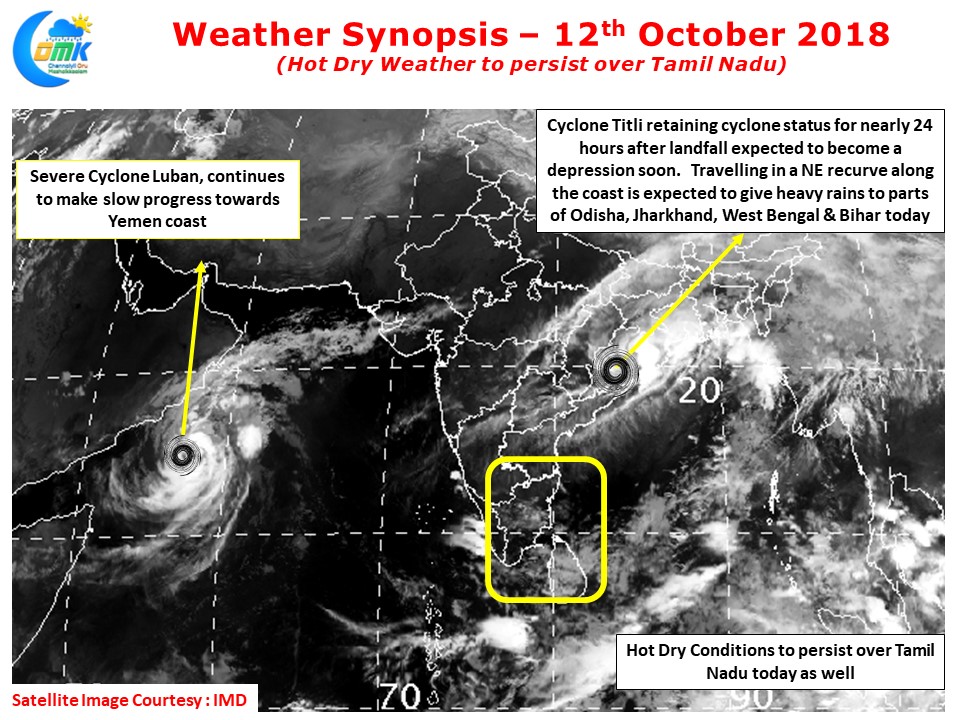 Retaining Cyclone Status for nearly 24 hours after landfall as it traveled along the Odisha Coast in a Northeast direction Cyclone Titli is expected to become a deep depression today morning and subsequently a depression later in the day it will provide heavy rains to parts of Odisha, West Bengal, Jharkhand & Bihar today while Bangladesh and Northeastern States are likely to witness heavy rains tomorrow onwards as it continues its NE trajectory.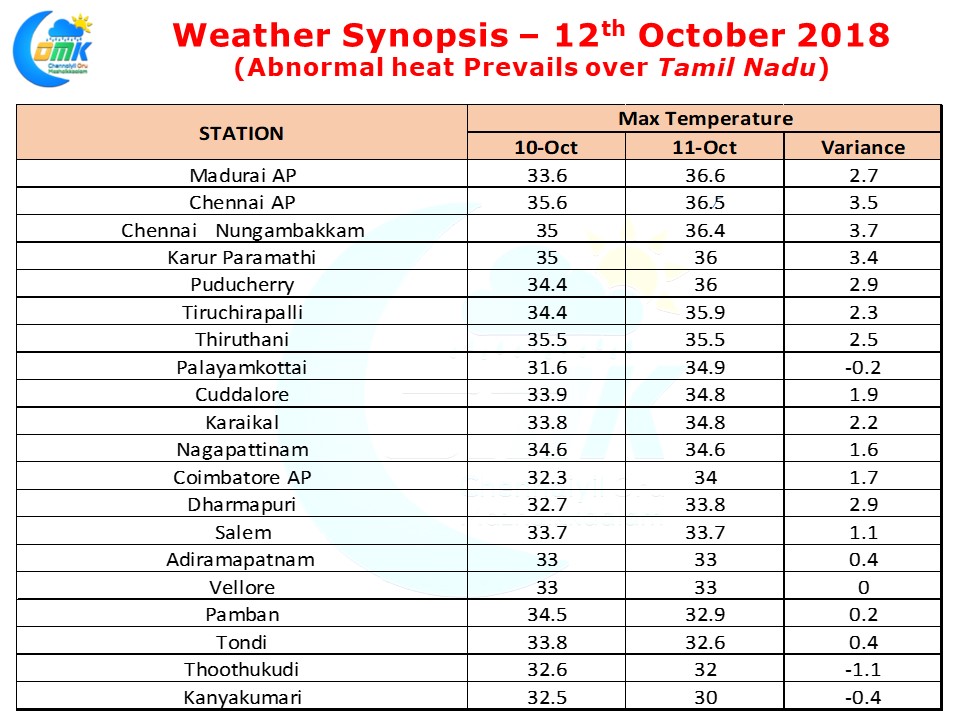 In the meanwhile many places in Tamil Nadu saw day time maximum temperatures stay well above normal with both IMD observatories at Chennai recording nearly 3.5°C above normal for this time of the year.  The Airport observatory recorded 36.5°C while the city observatory at Nungambakkam recorded 36.4°C.  The disturbance over Odisha meant Sea breeze from East were not to be seen making it an uncomfortable evening for the citizens.
Today once again we are likely to see similar conditions in Tamil Nadu.  Dry & Hot weather likely to to persist across the state with not much of rainfall activity expected.  Isolated places along the Western Ghats could get some light spells of rains while rest of the state will remain dry.  Places in North Tamil Nadu like Chennai will see another day where day time maximum temperatures are likely to be 2 / 3°C above normal once again.
Things could change for the good possibly from early next week. Fingers Crossed