Not often one gets to see specific topics pertaining to areas beyond South India in this blog.  While we do cover Southwest Monsoon progress time to time and at times talk about larger issues like Global Warming etc we stick to South India since we know this region better having tracked the weather for longer period of time.  But there is a lot of merit in making an exception for today's topic because of the risk that parts of Gujarat & Rajasthan are likely to face over the next few days.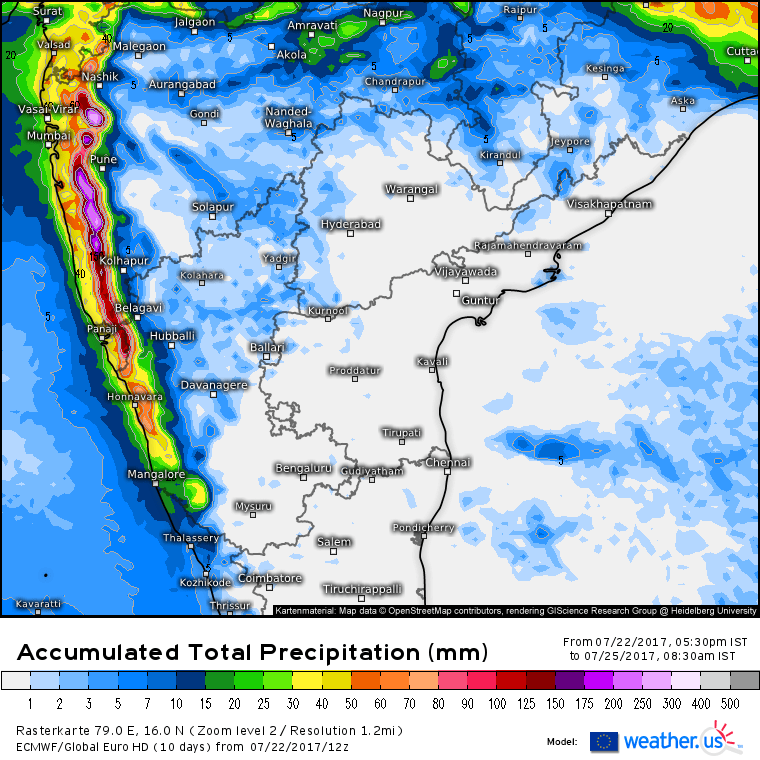 Most Weather Models are consistent in indicating Southwest Monsoon is likely to be in a subdued phase over major parts of South India.  While the interior areas of South India is likely to see very little rains over the next 3 / 4 days the coastal areas of Karnataka is likely to see moderate rains while Kerala will continue to see poor monsoon conditions persist.  Already seeing a deficit of 23% as of 22nd July the state is unlikely to see any immediate improvement in situation with models expecting July to possibly end with a high deficit.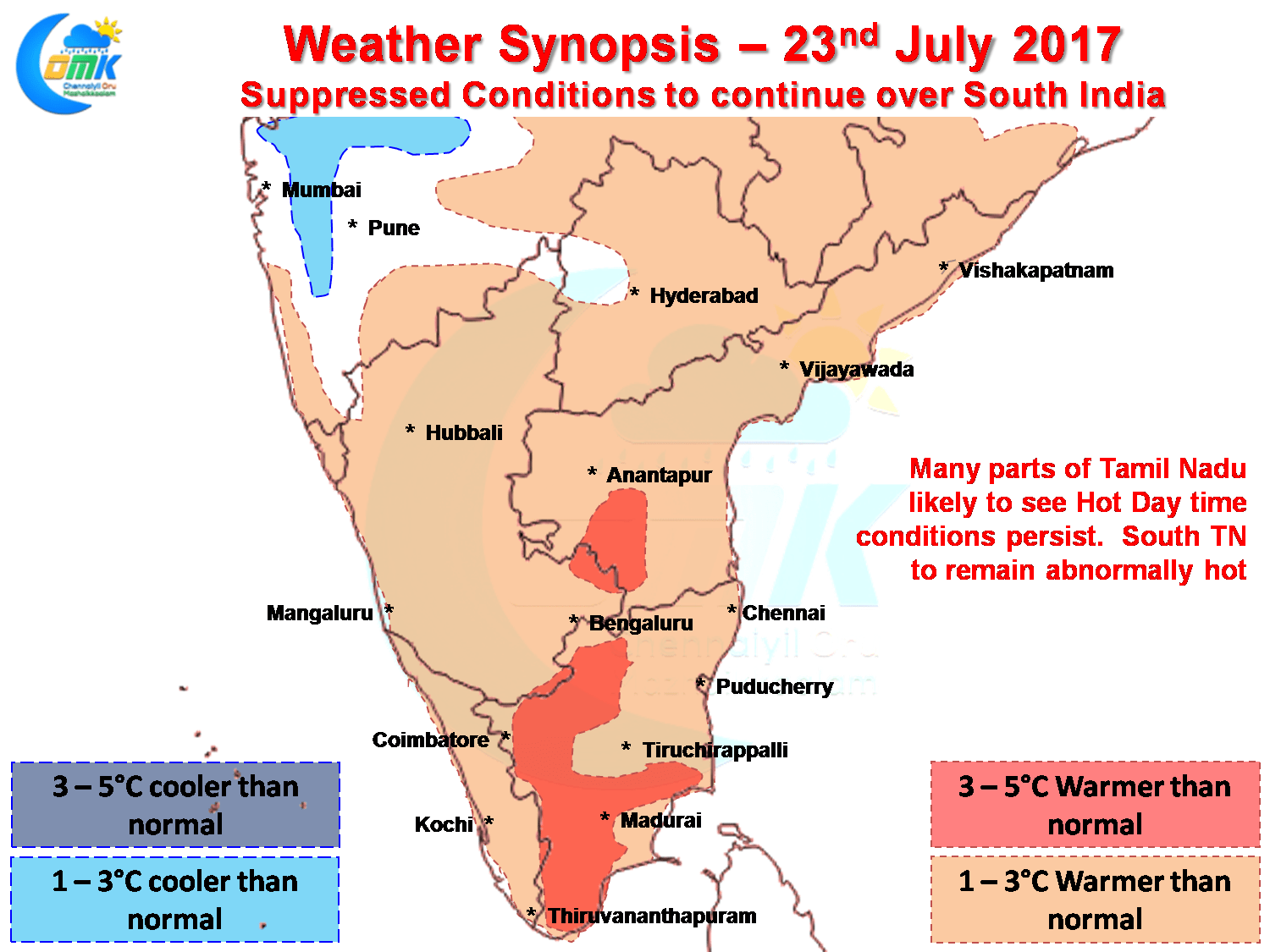 Thanks to poor Monsoon over South India and an overall suppressed phase prevailing hot weather is likely to persist over South India.  Many parts of Tamil Nadu in the South and Interiors likely to see maximum day time temperatures remain 3 / 4 degrees warmer than normal conditions for this time of the year.  The overall lack of moisture in the atmosphere, in particular around 925 & 850 hPa (.9 kms & 1.5 kms ASL) is possibly the key for increased temperatures resembling dry May conditions rather than peak July Monsoon conditions.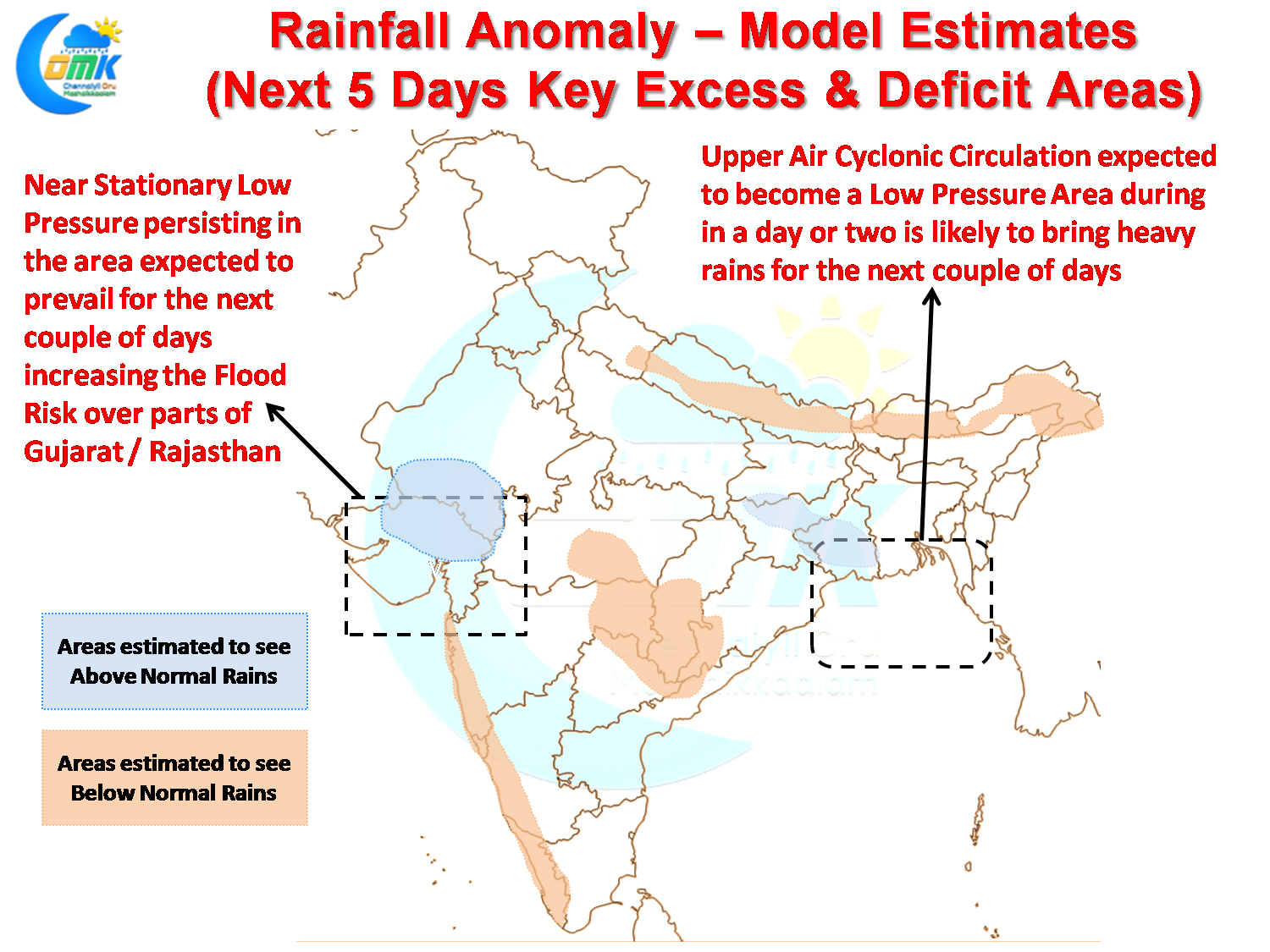 The active Monsoon convention now lies centered around the Shear Zone persisting near 23 N latitude.  On either sides of the Indian Sub Continent two active disturbances holding all the aces for how Southwest Monsoon is expected to behave over the next few days.  The near Low Pressure Area over Northwest India straddling Gujarat & Rajasthan border is likely to bring in heavy rains over parts of Gujarat & Rajasthan while the UAC in North bay is likely to descend into an LPA bringing in heavy rains over parts of East India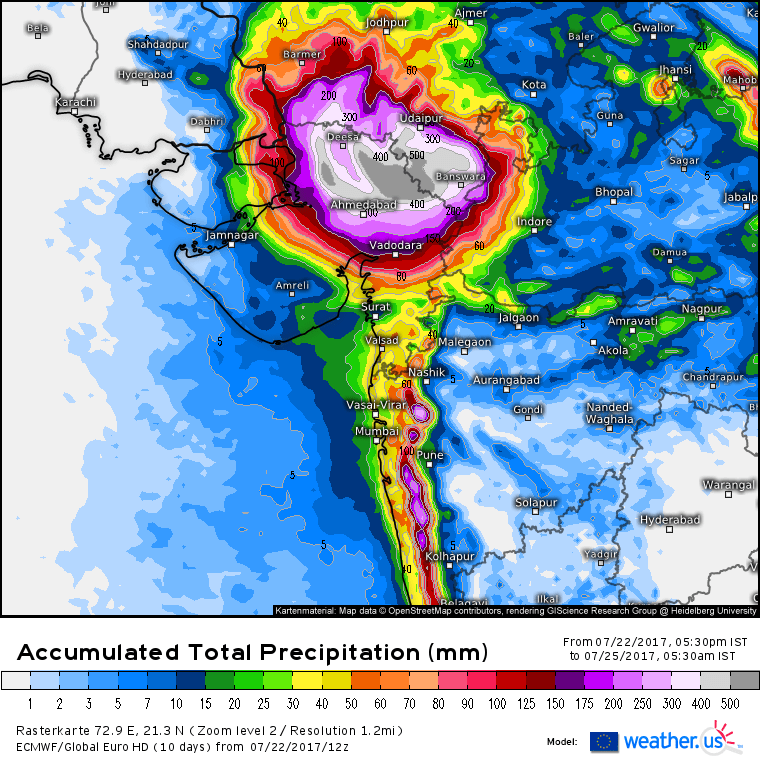 But the highlights for the next few days is likely to be the flood risk parts of Gujarat & Rajasthan is likely to see the coming week with most models consistent about many places in the region in line to receive rainfall in excess of 25 cms between today and Tuesday.  Worryingly some areas are expected to receive more than 50 cms rains during the same period.  Considering the water retaining capacity of the arid region in that part of the country water run off is going to be huge leading to a serious flood risk.
Powered by WPeMatico