July is peak Southwest Monsoon period when "ஆடி காற்று" holds sway over many parts of Tamil Nadu in particular those falling favorably along the various gaps that exist in Western Ghats.  This July especially the second fortnight is setting new records in heat as Southwest Monsoon went into an extremely subdued phase  over Kerala.
The precipitation estimate map pretty much sums up the situation currently existing over South India with large areas under dry spell while the West Coast which should be seeing widespread rains and heavy rains in many places is possibly seeing isolated spells of rains in Karnataka & Kerala.  To the contrary the Low Pressure over Northwest India continues to play havoc over parts of Rajasthan & Gujarat which is already reeling under heavy floods.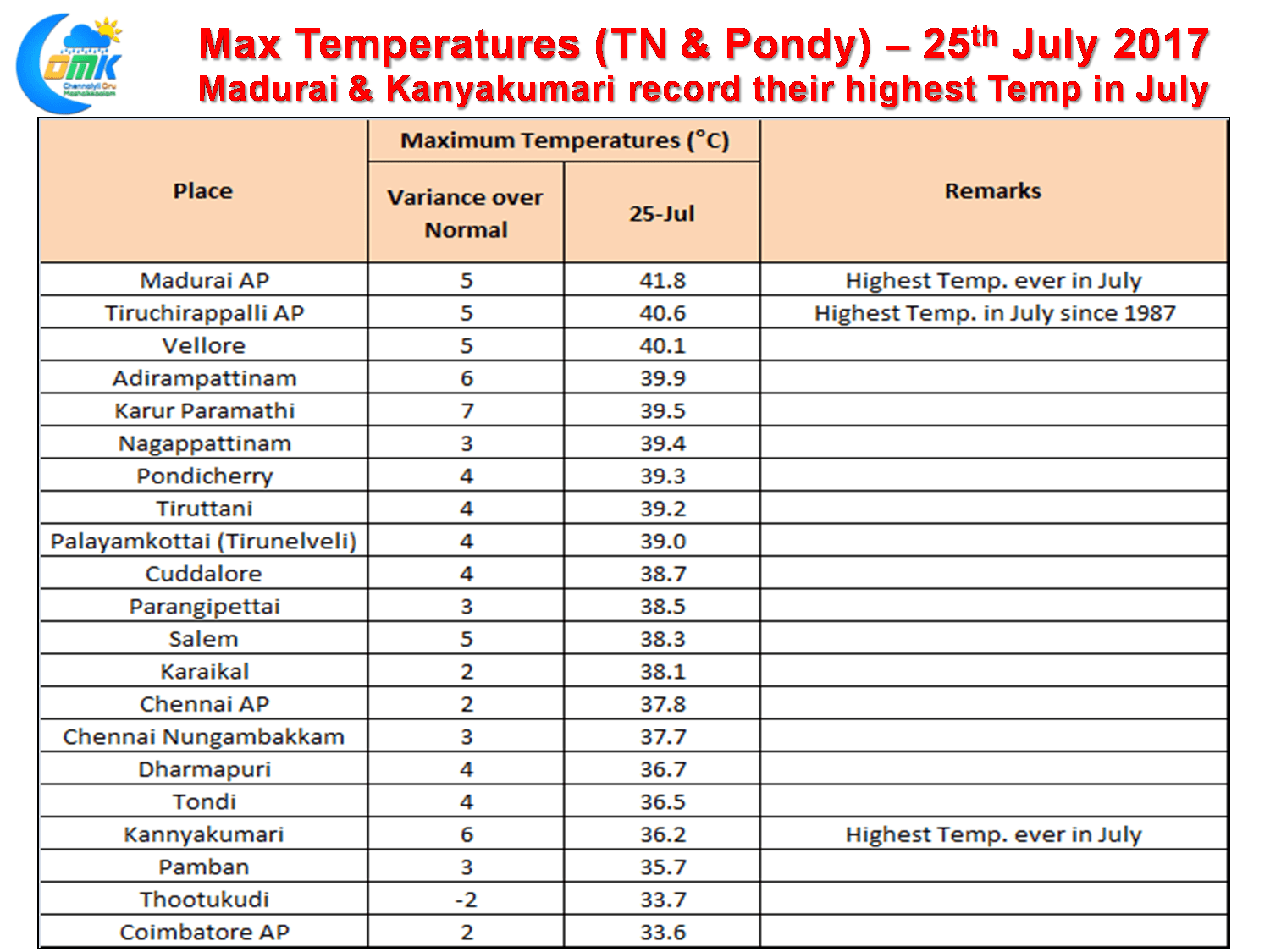 Late last week Cuddalore saw the highest temperature ever recorded during July breaking a record that was more than 125 years old.  On Sunday Madurai AP recorded 41.6 which equaled the highest temperatures recorded there in July, a feat that got repeated once again on Monday.  Yesterday the bar went up another notch touching 41.8 making it the hottest recorded July day for the observatory.  Yesterday also saw couple of other records as well with the Tiruchirappalli AP recording its highest temperature during July for the last 3 decades though at 41.1 the highest ever is still not yet within reach.
Kanyakumari which is known for some very pleasant day time conditions during Southwest Monsoon clocked 36.2 almost a degree hotter than the highest temperatures recorded there during the month of July.  The fate of Kanyakumari pretty much sums up the situation with Southwest Monsoon as things stand.
Going by models there is no immediate respite on the cards with above average temperatures expected to continue over most parts of Tamil Nadu with South TN bearing the brunt with some extreme day time heat indicated by the models.  Madurai's 40 degree streak is likely to continue today as well.
Models indicate some bit of convective activity over Coastal Tamil Nadu with GFS in particular expecting an isolated moderate thunderstorm activity over North Coastal TN.  The overall dynamics though remain suppressed so expecting wide spread convective thunderstorm activity is futile as things stand.
Powered by WPeMatico