In our post yesterday we had mentioned about the upcoming Low Pressure in Bay of Bengal that is possibly the immediate hope for many parts of North TN including Chennai to catch up on the deficit.  IMD has confirmed the Low Pressure in the South Bay & adjoining parts of equatorial Bay yesterday and is expecting the disturbance to become a well marked low in the coming 24 hours or so.
The upcoming spell is very critical for places like Chennai, Tiruttani, Vellore and other parts of North TN which has been seeing a very poor monsoon so far.  This year since the start of the normal Onset date of Northeast Monsoon we have been carrying a weekly NEM Chase card which gives an indication of what is the "Rain Rate" needed in the remaining days of the year to reach normal annual rainfall.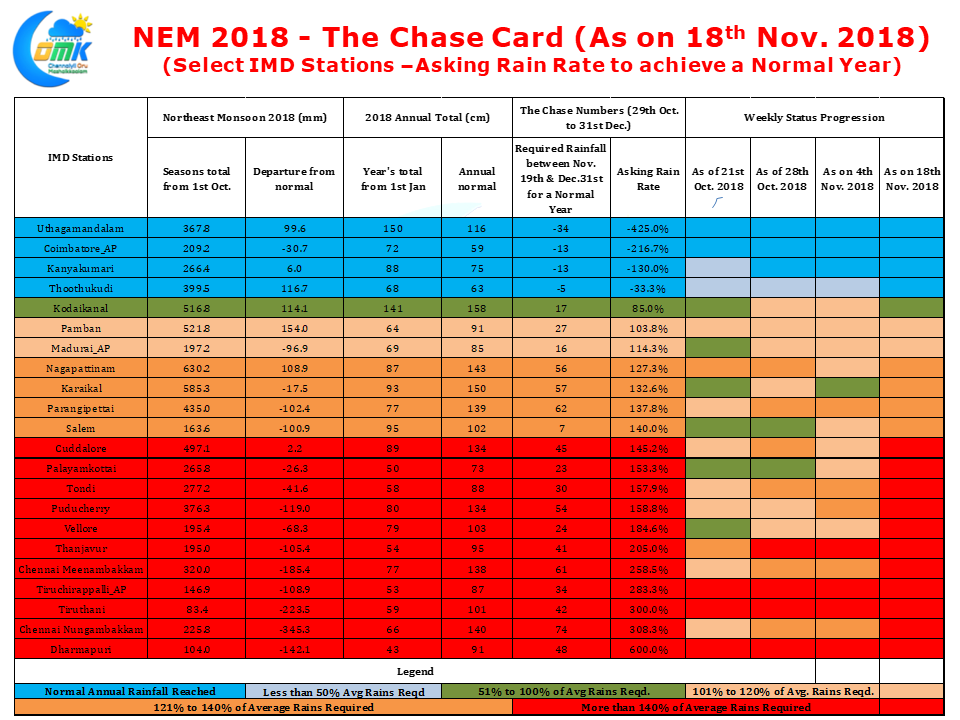 As of yesterday Chennai Nungambakkam needs nearly 75 cms to reach the yearly normal of 140 cms.  With only 42 days  in all and possibly 10 rainy days in all for the rest of the year it requires a Dhoni style finish to reach these numbers.  If one were to look at the numbers from a statistical point of view 6 IMD stations, Tiruchirappalli AP, Chennai AP, Chennai Nungambakkam, Thanjavur, Tiruttani & Dharmapuri require more than twice the normal rainfall to reach the annual totals.  Dharmapuri will need 6 times the normal rainfall which pretty much confirms the deficit year there.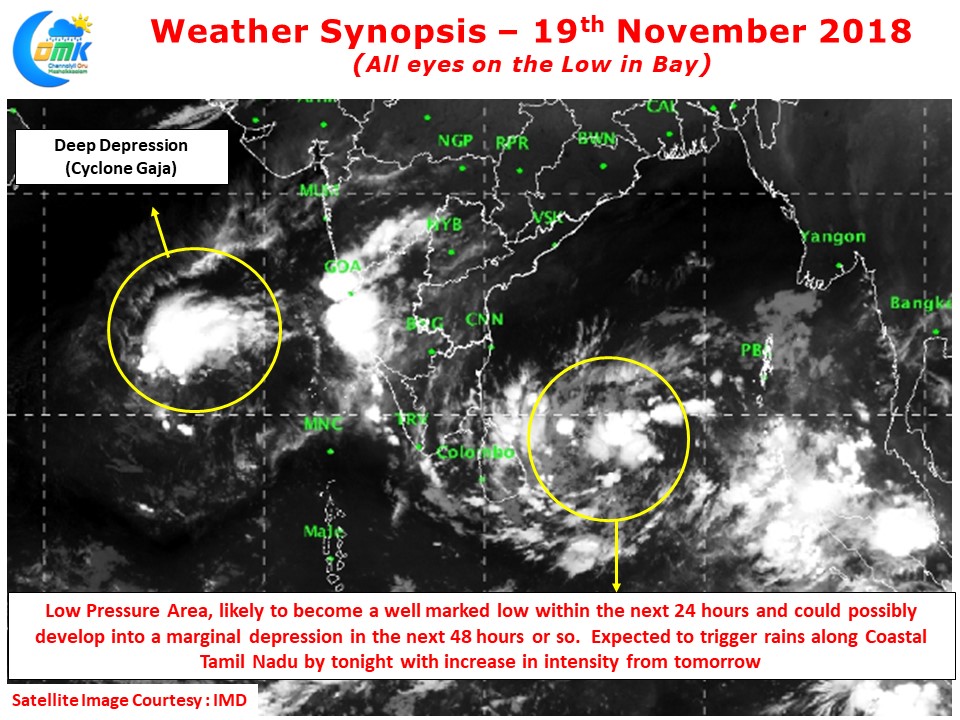 The low currently lying to the East of Sri Lanka is expected to drift roughly in a East to west direction though there is no clear consensus on whether it would move W/SW or W/NW.  This is adding a worrying dimension to the Delta districts which has been trying to recover from the damages of Gaja Cyclone. This movement could mean possibly the low traversing through Sri Lanka and look at a GOM scenario giving better probabilities for rains across Tamil Nadu
While North TN is still in a position to see possibly the best spell of NEM 2018 so far models indicate Delta districts will receive more than originally anticipated rains that is worrying.