Reading Time:
3
minutes
Sunday night and the early hours of Monday saw fairly widespread thunderstorms around Chennai and suburbs with some very intense groundstrikes happening over parts of the city. Subsequently we have seen thunderstorm activity persist over the KTCC region with city areas getting an intense spell during the early morning hours of Wednesday. With Monsoon dynamics swaying towards a possible break period and a reduction in rains over the West Coast and Ghats the pendulum is expected to shift towards thunderstorms over interior parts of Peninsular India for the next week to 10 days.
The last couple of weeks saw a train of pulses emerge along the Monsoon trough from Bay to become LPAs' / Depressions and bring heavy rainfall episodes regularly over Central India and adjoining areas. Favorable BSISO is one of the key factors for this patch of consistent rains over the Central Indian highlands and nearby areas. Now the intraseasonal oscillation has moved to a phase where it is expected to favor the equatorial waters and adjoining areas of Peninsular India for the next week or so.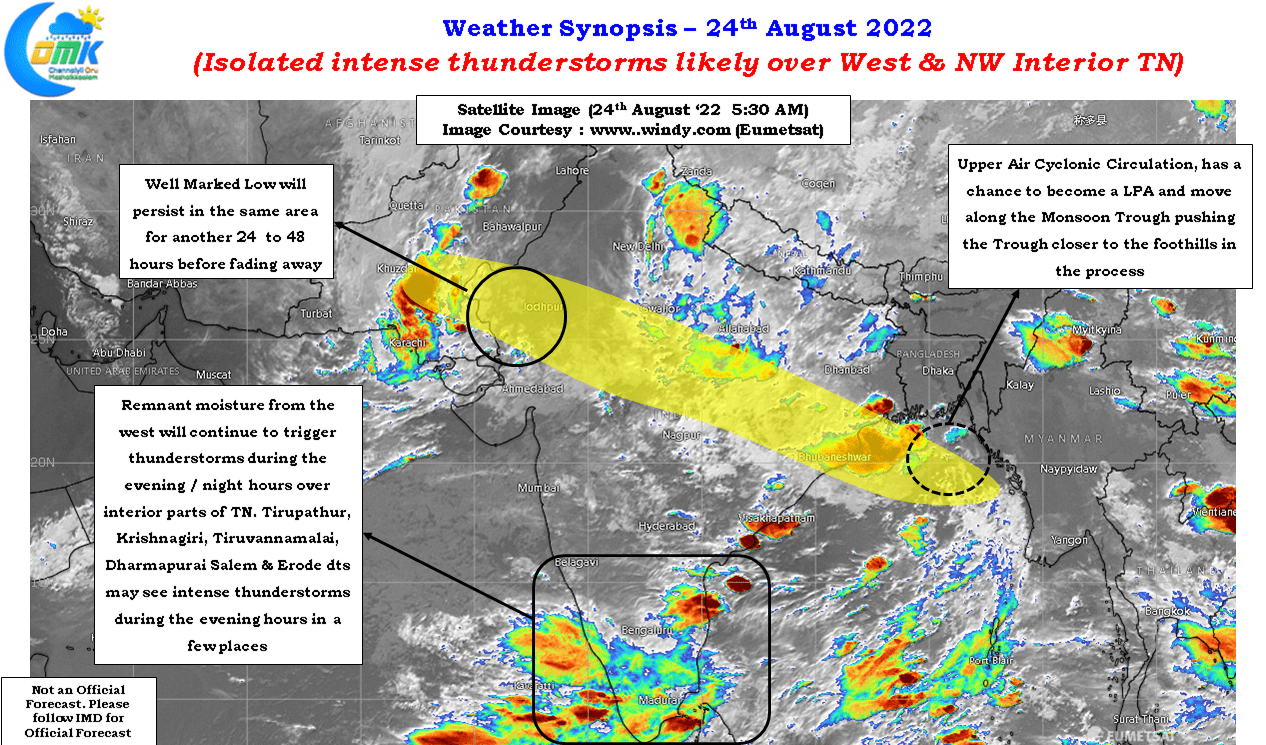 Additionally the movement of Kelvin Wave over the Indian Ocean as a precursor to the possible arrival of MJO towards the end of the month or early September is likely to amplify thunderstorms over the region for the next week to 10 days bringing an enhanced rainfall activity over the interior areas of Peninsular India. While coastal areas will be under the mercy of favorable wind and steering pattern to benefit from these thunderstorms, districts like Tiruvannamalai, Kallakurich, Ariyalur, Perambalur, Cuddalore & Villupuram can look forward to an active phase of Veppasalanam rains during the evening and night hours.
As is the case with these convective thunderstorms while we are likely to see enhanced rainfall activty over interior Tamil Nadu every place may not get daily rains but depending on localized conditions some of the areas may be lucky enough to get 4 or 5 days of moderate to heavy rains before August comes to a close. Today we could see parts of West and Northwest Interior Tamil Nadu come under moderate to intense thunderstorms during the evening hours developing from the remnant moisture being pushed by the Westerlies. One or two places around Krishnagiri, Dharmapuri, Tirupathur, Salem, Erode dts may see intense thunderstorms.
For the next 3 / 4 days Chennai and suburbs will have daily chance for rains during the night hours though it will be completely dependant on wind steering which is expected to slow down as Westerlies slow down for the next few days. Sea Breeze is expected to intrude for the next few days bringing associated thunderstorm possibilities too.