After few days of widespread rains over most of Tamil Nadu things are expected to ease a little bit from today.  Two disturbances on either side of the Peninsular India is expected to intensify over the next couple of days and the respective movement will shape the weather events over the Indian Sub Continent for the next few days.
The Depression over Arabian Sea currently lying to the West / Northwest of  Lakshadweep Islands is expected to intensify into a Deep Depression in the next few hours and subsequently into a cyclone over the next 24 hours or so.  The system is expected to continue its West / Northwest track and make a landfall over the Oman / Yemen coast.  With possible MJO Influence likely over Arabian sea from today we could see a good intensification from the system and the disturbance to develop into a strong cyclonic system.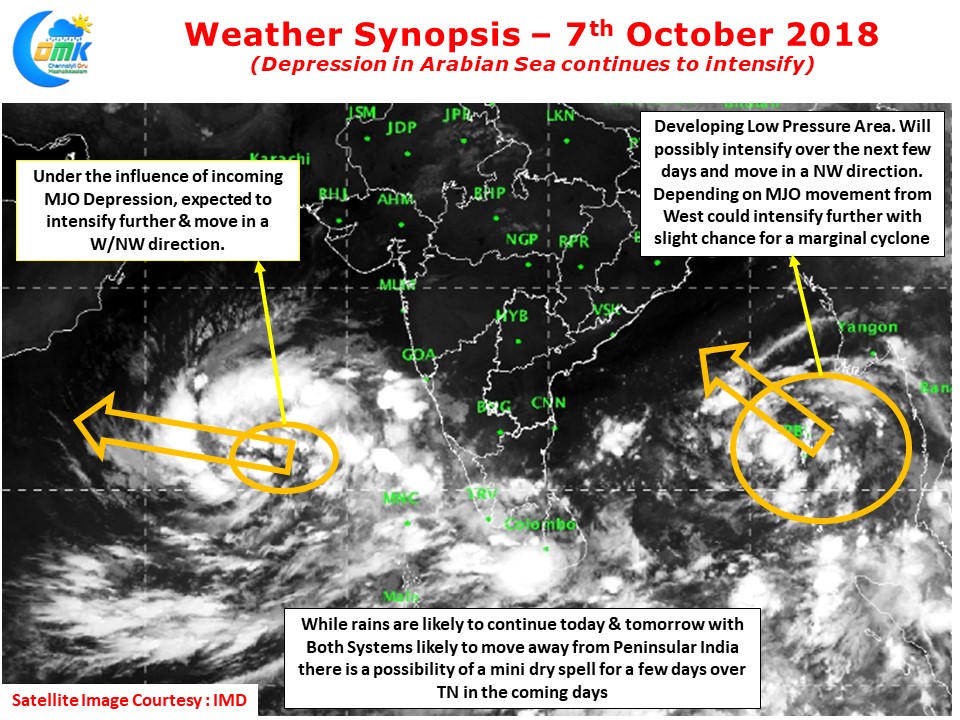 In the meanwhile over in Bay a Low Level Circulation is expected to evolve into a Low Pressure Area within the next 24 hours or so and track in a Northwesterly direction over the next few days.  Depending on how fast MJO would travel from West to East we might see this system also benefit from MJO and possibly develop into a marginal cyclonic system as it nears the coast.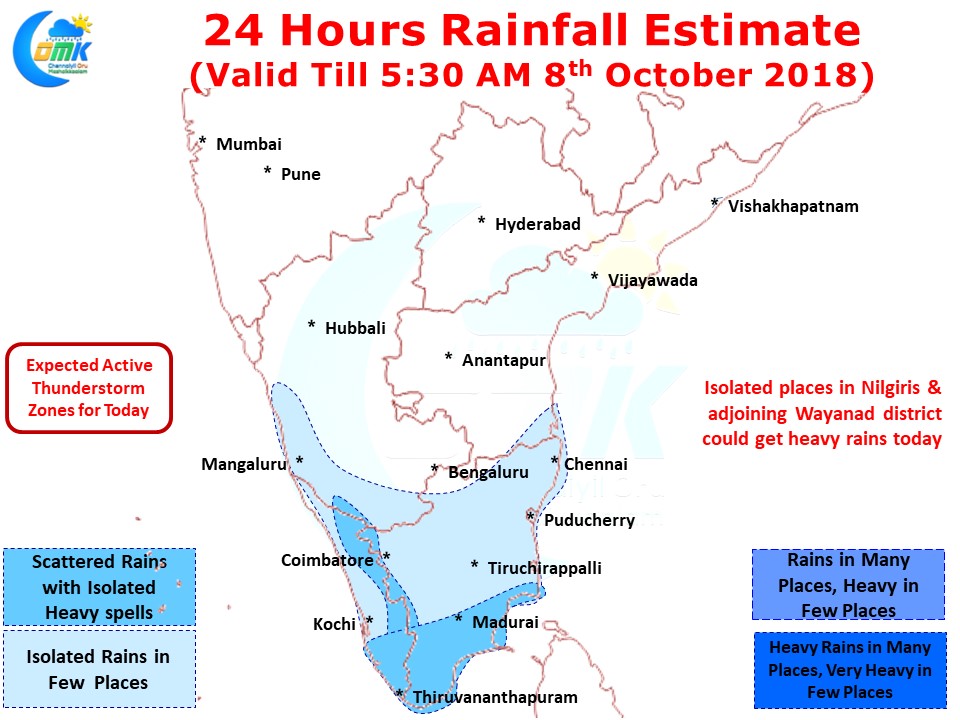 As far as rainfall pattern goes today we could see isolated rains over the coastal areas and some moderate to heavy rains along the Western Ghats.  Few places in Nilgiris district & the adjoining Wayanad district could get very heavy spells of rains at times as moisture gets dragged across the Ghats by the Depression.  But the system is too far to the west for creating enough moisture drag to benefit the rest of interiors & coastal Tamil Nadu.  We might see sharp spell of showers in the coastal areas during late nights / early mornings reminiscent of active Northeast Monsoon days.  South Tamil Nadu could see isolated heavy rains particularly around Kanyakumari & Tirunelveli districts.
Overall though the rains in Tamil Nadu could see a decreasing trend from today and is expected to pick up after both the disturbances complete their cycles.