Yesterday in a precursor to the upcoming Summer many parts of Tamil Nadu saw abnormally warm day with places like Salem recording more than 5°C above average temperature. Both IMD observatories in Chennai recorded highest temperature during January in more than a decade. Salem saw an increase of 4 degrees while Palayamkottai recorded more than 3 degree increase compared to Monday.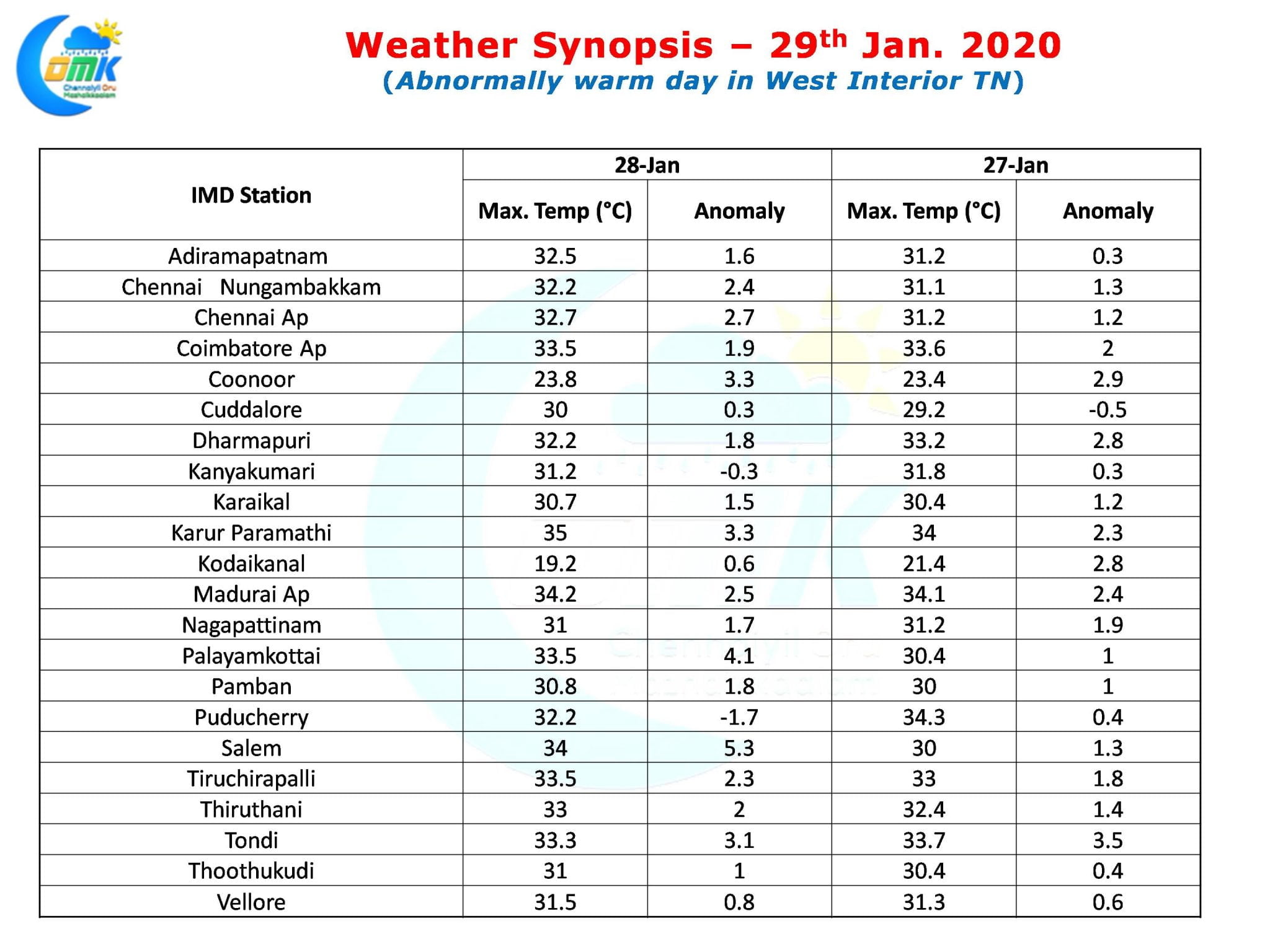 A week or so back we had given a Long Range Estimate of expected Rainfall timetable for the month of February. While we at COMK still believe tropical weather is too dynamic to give a clear long range weather inference long term weather pattern in particular anomalies etc are needed for some directions for the stakeholders. Keeping this in mind as a sequel to our first LRF issued on21st January we are giving an update now on the temperature front for February 2020.
Long term weather models are fairly in sync about what is likely to be a warmer than normal for South India. While regular climatic oscillation could play a role in modulating temperature pattern one key factor we need to keep in mind is the presence of remnant heat stored by Ocean on the back of one of the strongest Positive IOD episodes in history. As the Ocean releases the stored up heat gradually through atmosphere we can expect temperatures to stay well above normal for most of Summer 2020.
If one remembers the last strong El Nino episode 2016 summer was one of the hottest in recent years even though Nino was well into its waning phase by then. We can expect similarly the early part of 2020 to be much warmer than normal and potentially Early Summer too for the interior parts of Tamil Nadu. In particular going by weather models West Interior TN is shown with nearly 3 to 5 °C above average day time temperatures for most of February. The districts of Erode, Tiruppur, Namakkal, Salem & Karur are likely to bear most of this early phase of anomalous heat.