This week has been very good for Tamil Nadu on the thunderstorm front. The early part of the week saw places in North TN & North West Interior TN record good rains including places like Chennai. The last couple of days saw South TN witness thunderstorms including parched places in Virudhunagar & Thoothukudi district.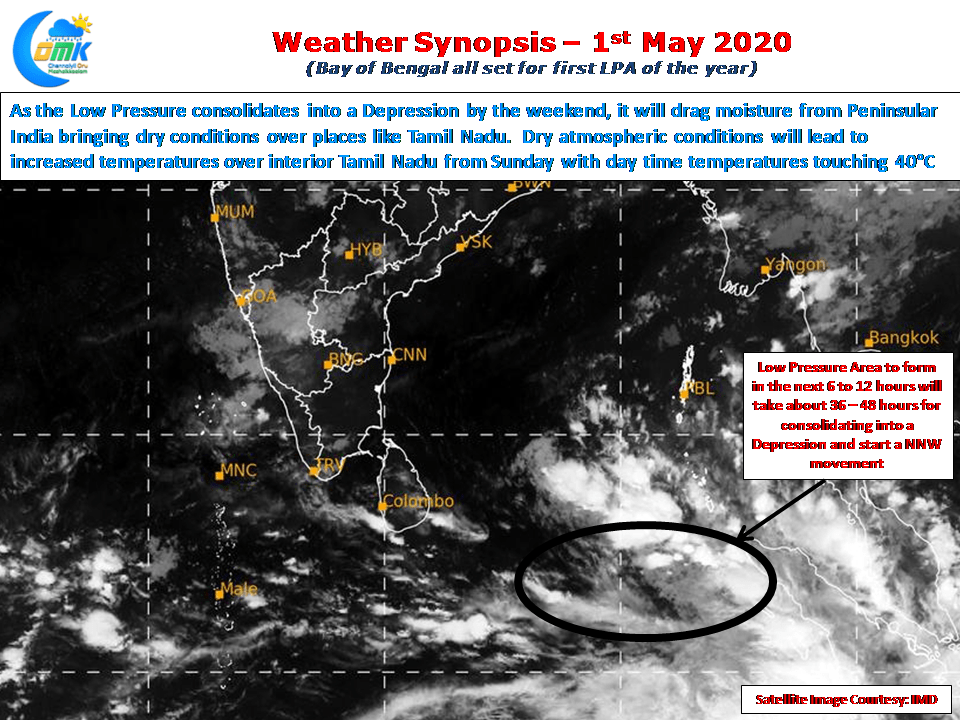 In a major development Bay of Bengal is all set to host the first Low Pressure of the year with things churning in the Equatorial Bay off the Sumartra coast. While the Low Pressure is expected to form in the next 6 to 12 hours it is likely to remain in a pseudo stationary position for the next 36 to 48 hours while consolidating itself into a Depression. Subsequently it is expected to take a NNW path initially.
As the low pressure consolidates into a depression as is the usual case it will start dragging moisture towards it bringing dry atmospheric conditions over most of Peninsular India triggering dry weather over places like Tamil Nadu. This would mean by the weekend we can expect an increase in day time maximum temperatures with interior places in line to touch max temperatures around 40ºC once again.
In the meanwhile weather models indicate the winds to be more streamlined as well restricting thunderstorms to closer to the Western Ghats & Kerala for the next few days. Today one or two places along the Ghats in South TN could see moderate thunderstorm activity while most parts of the state will remain fairly dry.