The Well Marked Low in Bay of Bengal became a Depression today morning and continues to remain quasi stationary in the same South Bay region for te past 48 hours or so. Currently located at about 800 SE of Chennai, roughly to the east of Nagappattinam it is expected to show some movement starting from today in a general NW direction.
Contrary to what models were estimating there is roughly 12 to 24 hours delay in how things are happening in real time as far as this system is concerned. Most models expected the system to become a Deep Depression, Tropical Storm under global standards, today morning while the system has continue to struggle to consolidate leading to a delay in the intensification as well.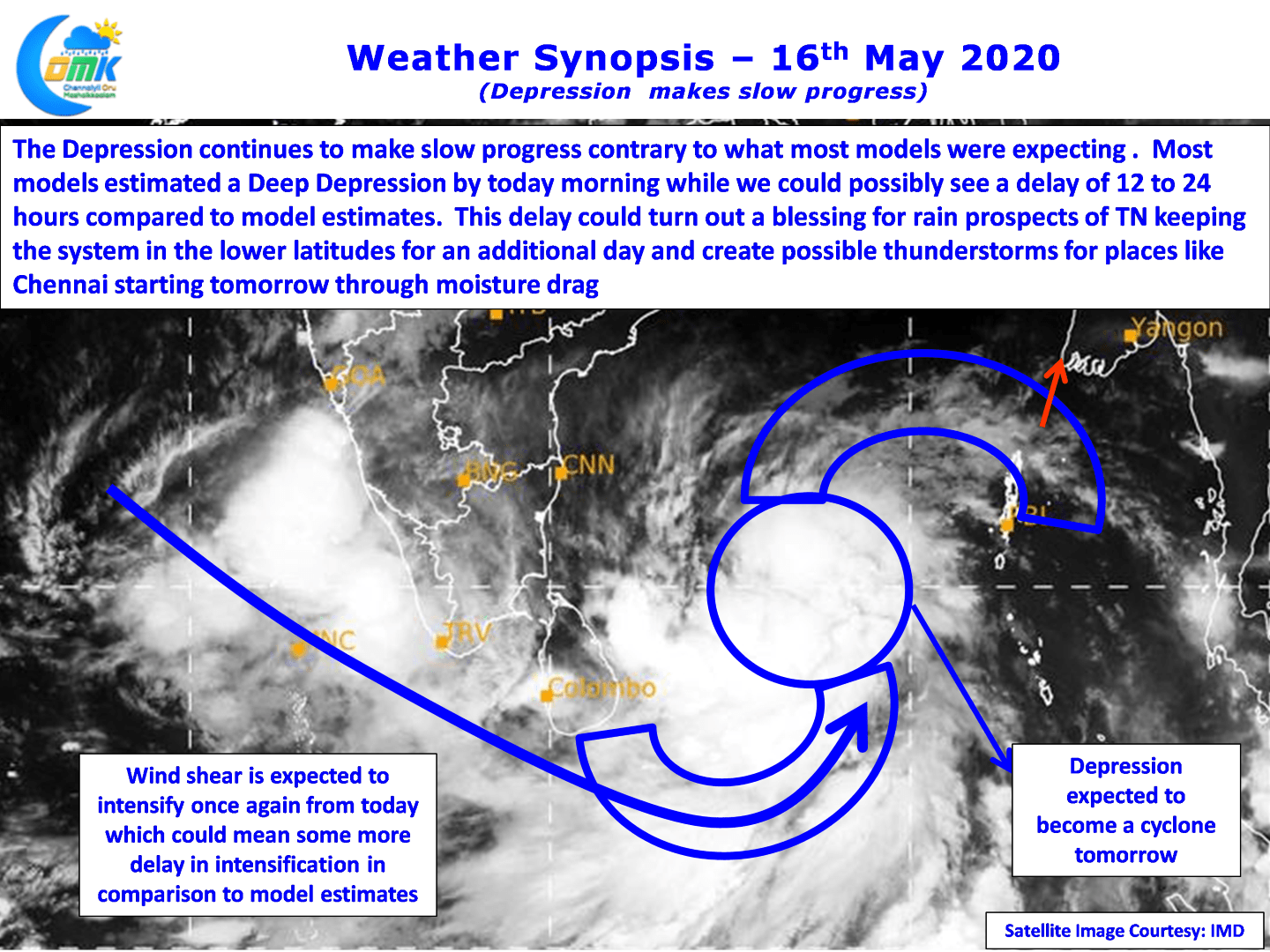 Partially broad based circulation during the early days,dual vortex embedded in the broad circulation at times meant the well marked low struggled to consolidate despite seeing fairly good atmospheric conditions in the form of low wind shear and very good atmospheric conditions in the form extremely warm seas. Weather models indicate the wind shear to increase once again from today which could mean another round of difficulty for the system to intensify as per model estimates.
But this could turn out to be a blessing in disguise for Tamil Nadu with the system staying in the lower latitudes for one more day creating an additional opportunity for rains induced by moisture drag across South India for Tamil Nadu. Coastal places like Chennai could see some rainfall action starting from tomorrow with Monday promising to be a decent day in terms of thunderstorm activity.
Starting today until Tuesday morning represents the best time for Interior & Coastal TN in terms of rainfall prospects. Please do not expect heavy rains as thunderstorms through instability does not normally give widespread heavy rains. Rains will gradually increase from later tonight / early tomorrow morning peaking on Monday