Yesterday's Well Marked Low intensified into a Deep Depression over night and is in on its way to becoming Cyclone Fani over the next 6 – 12 hours or so. Still lying in the lower latitudes of Equatorial Bay, as we mentioned in our post yesterday the South movement by its Cross Equatorial Sibling has meant the two disturbances have started their respective journeys.
Being close to the Equator the system is still under the support of weak Coriolis Forces preventing its consolidation and intensification. Today afternoon once it cross 5N latitude things will pick up and a process of wrapping along with consolidation will be underway for what is likely to be Cyclone Fani. Currently the Deep Depression is about 700 kms off the Sri Lankan Coast and about 1100 kms to the East / Southeast of Nagappattinam.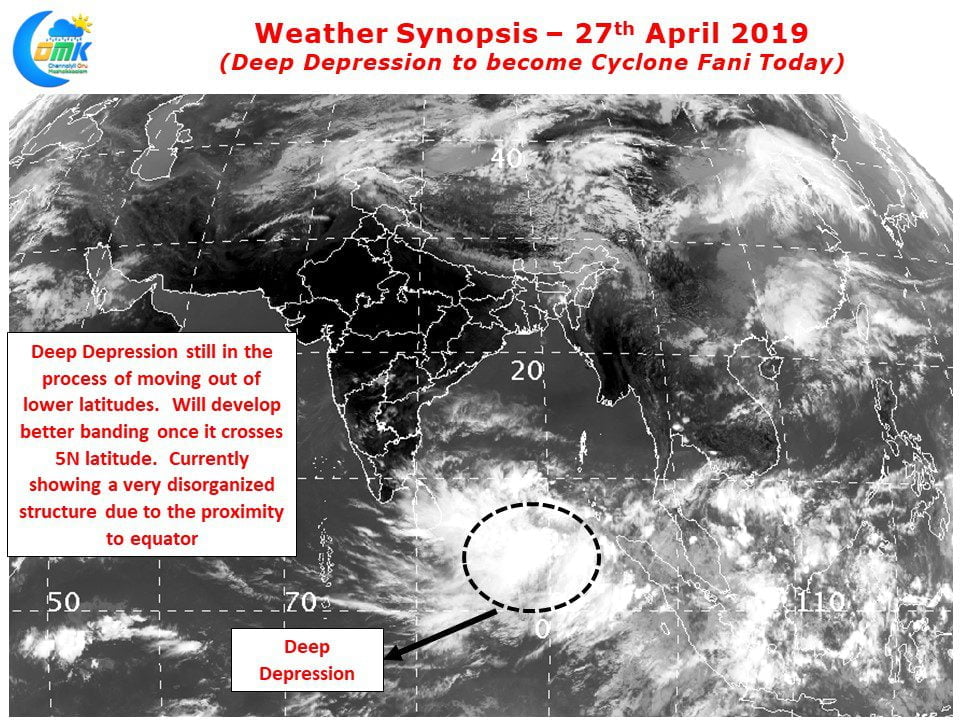 While compared to yesterday most global models have started to skew towards a more Northward track the rapid intensification phase that is likely to happen around 48 hours from now. Aided by marignally favorable atmospheric conditions and extremely good oceanic conditions in the form of boiling Bay waters a rapid intensification is only a question of time and not if. Most probably this phase will also be accompanied by a slow down in movement and a possible change of direction.
Though the odds are stacked against a possible favorable outcome for Chennai & rest of Tamil Nadu a slight tilt in track during this phase could bring the circulation to about 150 – 200 kms East of the coast opening up possible rainfall opportunities for Coastal Tamil Nadu. But please keep in mind the overall direction of Cyclone Fani will continue to head towards the Northern parts of Bay, a slightly more West movement can work out favorably for TN.
Keeping Fingers Crossed. There is no cause yet for TN to drop their vigil yet over Cyclone Fani