Cyclone Vardah continues to churn along in Bay of Bengal about 1000 kms to the E/SE of Chennai.  After making near stationary movement for nearly 36 hours Cyclone Vardah has now come into the open waters of Bay which is expected to become conducive for the development of the system.  Also the presence of moderate wind shear in the path of Cyclone Vardah could aid for the intensification of the system to Severe Cyclonic Storm over the next 24 hours or so.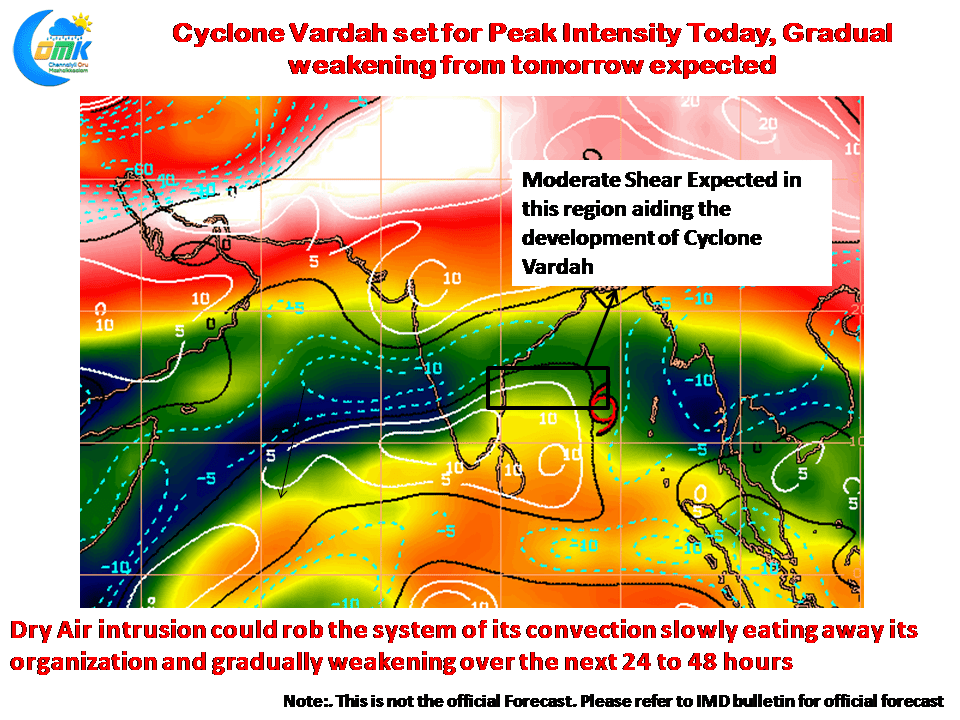 While Cyclone Vardah could see its peak intensity today it could gradually weaken from tomorrow as a combination of dry air intrusion and increased wind shear in the region when it starts its W/SW drift could rob its organization and possibly push it as a weak system at the time of landfall.
As explained above Cyclone Vardah in all probability will make landfall as a weak depression along the North TN / South AP coast as things stand.  Models are expecting a NW movement for the next 24 hours or so as Cyclone Vardah intensifies under favorable condition.  By tomorrow as it starts to weaken we can start to see a gradual W/SW drift in the track.  Depending on the latitude it climbs today the landfall could be 100 kms either side of Chennai.  While some models expect Cyclone Vardah to possibly climb up to 16N we think it could climb to about 14 to 14.5N after which the W/SW drift will possibly kick in.
As things stand we could possibly see rains start for North Coastal TN from late night of Sunday with the peak rainfall period during the intervening night of 12th & 13th December.  While moderate to heavy rains could happen at few places we are unlikely to see very heavy rains with flooding risk due to the system loosing intensify before landfall.  Stay tuned to us for regular updates.
The post Cyclone Vardah set for Peak Intensity, Could Gradually weaken from tomorrow appeared first on Chennaiyil Oru Mazhaikkaalam.
Powered by WPeMatico