For the next few days its going to be Cyclone Gaja that is likely to be the buzzword among the weather bloggers in the East Coast.  The name Gaja has been given by Sri Lanka.  Even under normal circumstances a cyclone in Bay creates a lot of excitement among the bloggers when there is a chance of it impacting them directly the tracking becomes more intense. Similarly "Cyclone Gaja" is now going to hog all the limelight in Tamil News Media as well.  Add to it the meme makers who are going to make hay with "கஜா வராண்டா"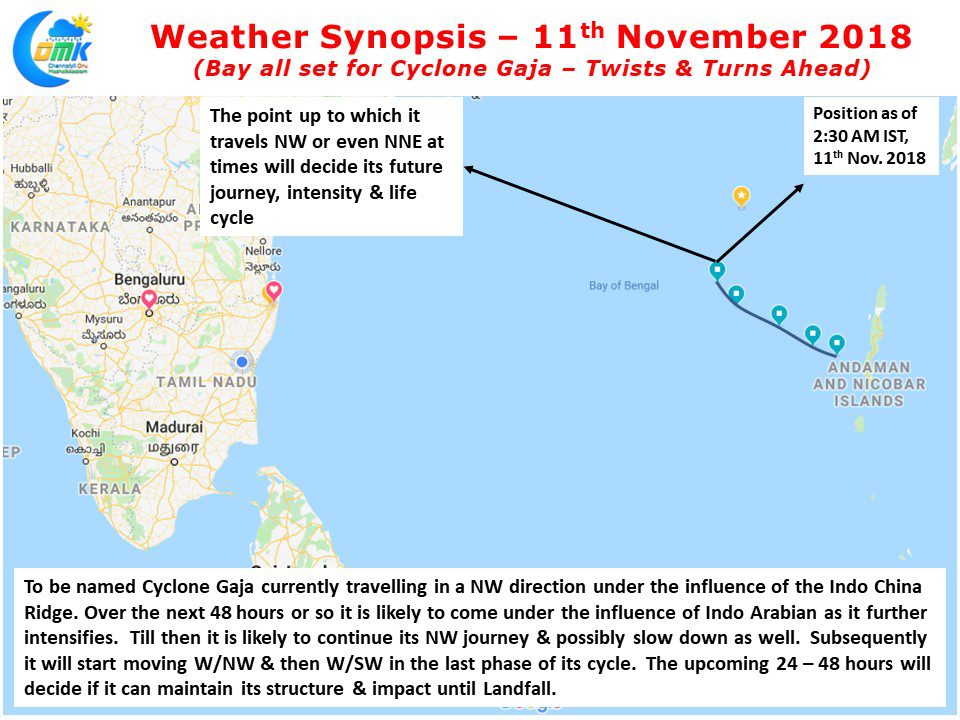 Currently lying about 1000 kms to the E/NE of Chennai the Deep Depression is likely to become Cyclone Gaja in the next 12 hours or so.  As we mentioned in our post yesterday it will possibly be attending Cyclone status in less than 36 hours from the time a Well Marked Low was announced by IMD.  Currently the system is stronger than what the models were estimating it to be a couple of days back.
Guided by the Indo China Ridge to its Northeast the system is tracking in a Northwest direction and is likely to continue this NW movement for the next 24 hours or so before the Indo Arabian Ridge tries to align the steering to itself.  This phase of 24 – 48 hours is going to be crucial in the life cycle of Cyclone Gaja.  If this handover gets delayed then the system would have possibly crossed 14 / 14.5 N post which any W/SW movement towards Indian coast will rob the system of its core & convection.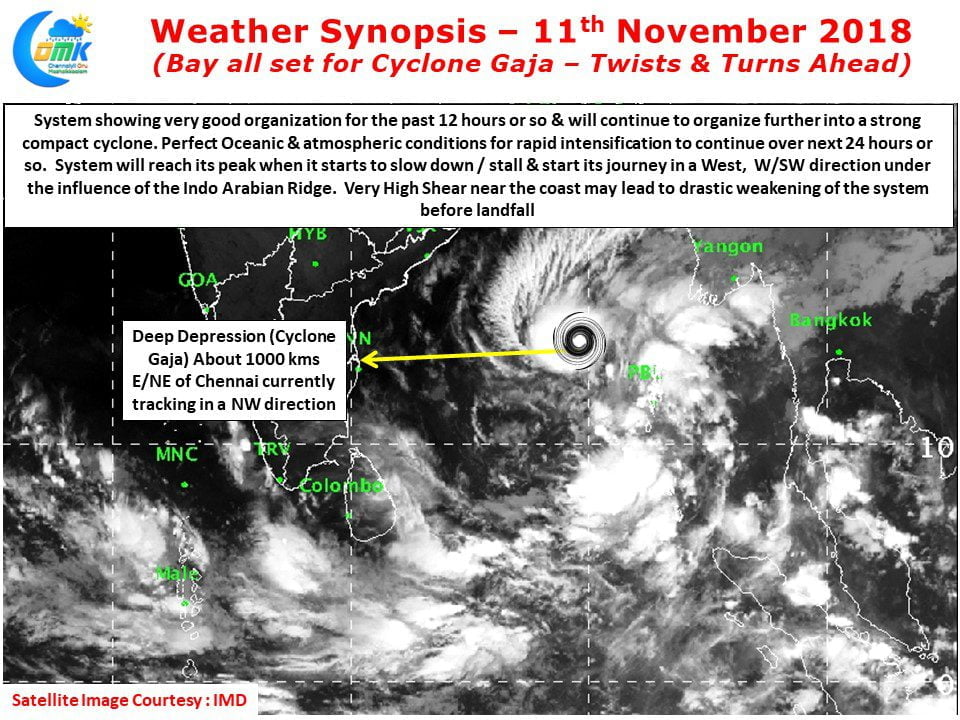 A look at the Convergence & Divergence charts indicate the healthy state of the disturbance and possibly explaining the rapid intensification too.  As long as the system continues to move it will thrive on the very strong support provided by Bay of Bengal.  Atmospheric conditions is also likely to be very good with low wind shear allowing the system to continue its intensification further.  In our estimates the system will attain its peak intensity during this phase of 48 hours or so before it starts its journey towards the coast. We will have to also see the influence of dry air as it travels further North than what models originally estimated.  The wind shear is very high near the coast which could lead to drastic weakening near the coast but that will have to wait until we start seeing the system move towards the coast.