Reading Time:
2
minutes
Cyclone Gaja continues to bear down towards the coast of Tamil Nadu.  Contrary to the previous two days movement the disturbance showed decisiveness yesterday picking up speed during the second half of the day and continuing in a general SW movement.
Satellite image clearly indicates the tight wrapping of the system since yesterday afternoon.  This phase of consolidation has allowed Cyclone Gaja to undergo a much leaner transformation that will allow it to maintain its intensity until landfall.  The tight wrapping of bands will also mean heavy to very heavy rains may happen around landfall time.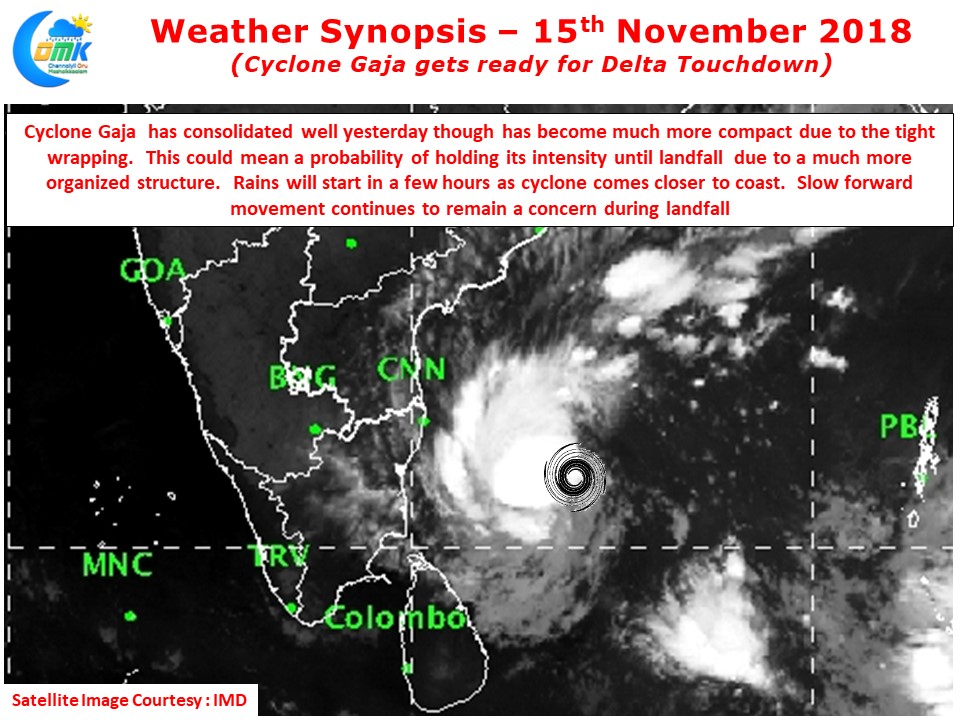 Currently lying about 450 kms to the East / Northeast of Nagappattinam it has moved about 100 kms or so over the last 9 hours indicating a forward movement of about 10 km/h.  While this slow forward moment remains a concern especially if it continues to remain slow during landfall things are expected to pick up for the final leg of the touchdown.  Over the coming hours the forward movement of Cyclone Gaja could increase to about 12 – 15 kms/h.  The compact structure of the cyclone would mean the heaviest landfall impact could be over a smaller area.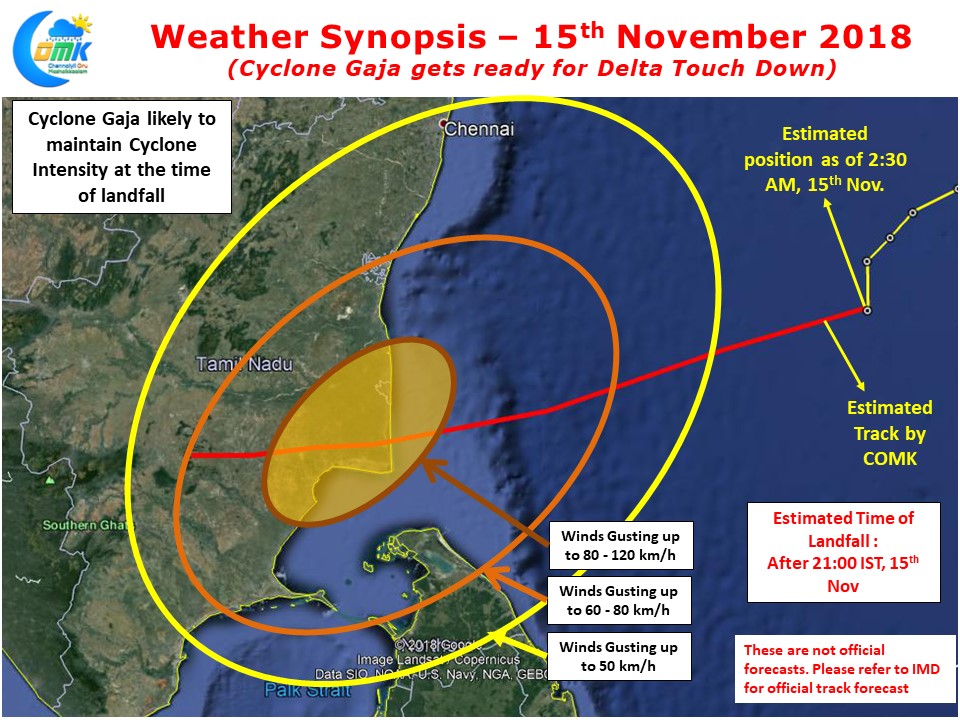 COMK had mentioned about the possibility of Cyclone Gaja crossing 50 kms either side of Karaikal, looking at how things are evolving we are likely to see a delta landfall.  With Cyclone Gaja likely to remain compact and maintain cyclone intensity parts of Delta districts could see wind gusts reach up to 120 km/h at many places during landfall.  Sufficient precautions should be taken for safeguarding low lying areas along the coast against strong storm surge.  Rains are likely to start in a few hours time along the coast with intensity picking up later in the evening as the Cyclone starts brushing the coast.
Please note this is not an official forecast and for all Warnings please follow IMD & NDRF communications time to time