After stuttering and ambling around Central Bay Cyclone Gaja finally has started to make a dash towards the Tamil Nadu Coast.  Taking nearly 24 hours to complete a loop while continuing to remain unorganized the system climbed up latitude by a few points slightly altering the overall dynamics marginally which could influence the rainfall pattern. Currently lying about 550 kms roughly to the East of Chennai Cyclone Gaja continues to make very slow movement.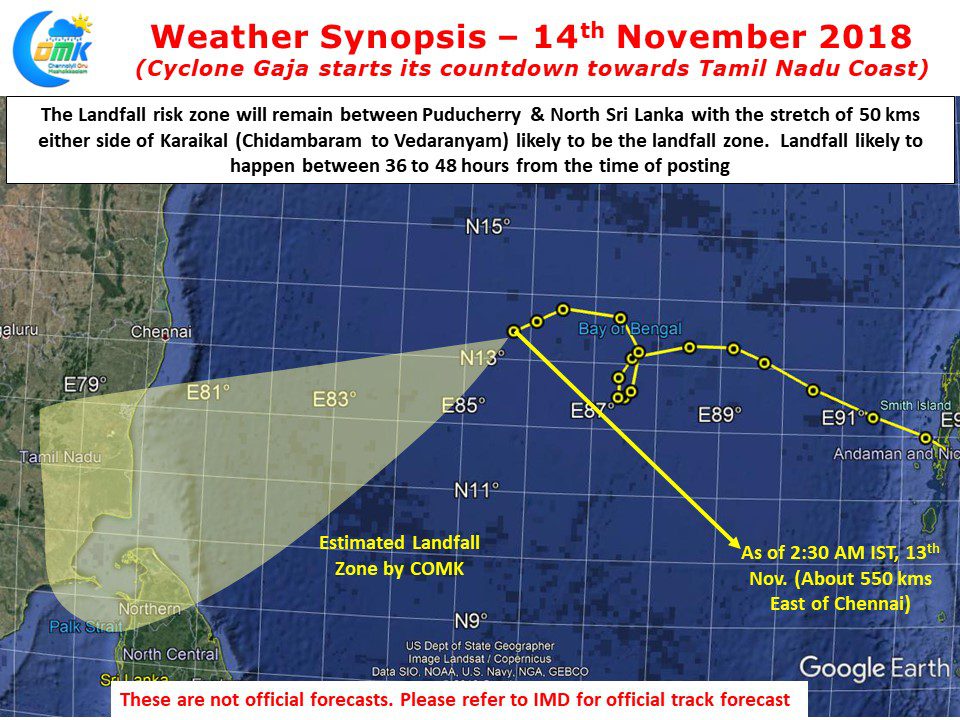 Unable to improve in intensity also playing a role in not getting attached firmly to either of the ridge (High Pressure) which could have improved the movement. The good news though is Cyclone Gaja is finally showing some improvement with satellite images indicating the system tightly wrapping around its core and a proper banding seen. The loop made by Cyclone Gaja has pushed back the landfall time frame slightly.  COMK estimates landfall to happen about 50 kms either side of Karaikal roughly 36 to 48 hours from the time of this post.
With wind shear easing along the expected path we could possibly see a bout of intensification over the next 12 – 24 hours or so.  As it nears the coast it is expected to weaken due to unfavorable ocean conditions.  The sea sub surface temperatures around the Delta coast remains below optimal for Cyclone Gaja to maintain intensity and behave like Cyclone Vardah.  Nevertheless it will make landfall as a moderate intensity disturbance possibly as a marginal cyclone carrying good amount of moisture along with it.
With reasonable clarity now on the possible landfall Zone & intensity estimates we feel its the ideal time to bring out the expected Rainfall Pattern from Cyclone Gaja.  As mentioned in the opening remarks of today's post the loop made by Cyclone Gaja has tweaked the overall dynamics marginally.  The little jag to the north is now providing for a different angle of track & landfall.
This is likely to benefit South Tamil Nadu more than originally expected say a couple of days back. In particular isolated places along the Western Ghats on either side, Tamil Nadu & Kerala, could see heavy to very heavy precipitation as the pulse crosses over Peninsular India.  Similarly parts of Delta could also get heavy to very heavy rains during landfall period.