Cyclone Gaja currently lying about 775 kms to the East / Northeast of Chennai is showing signs of a change in Direction.  For the 3 hours between 11:30 PM yesterday and 2:30 AM today morning it has moved less than 20 kms. For most of the day yesterday it was averaging around 15 kms an hour. Yesterday it similarly slowed down before starting on a westward movement during the early hours.  Prior to that it was moving in a NW direction.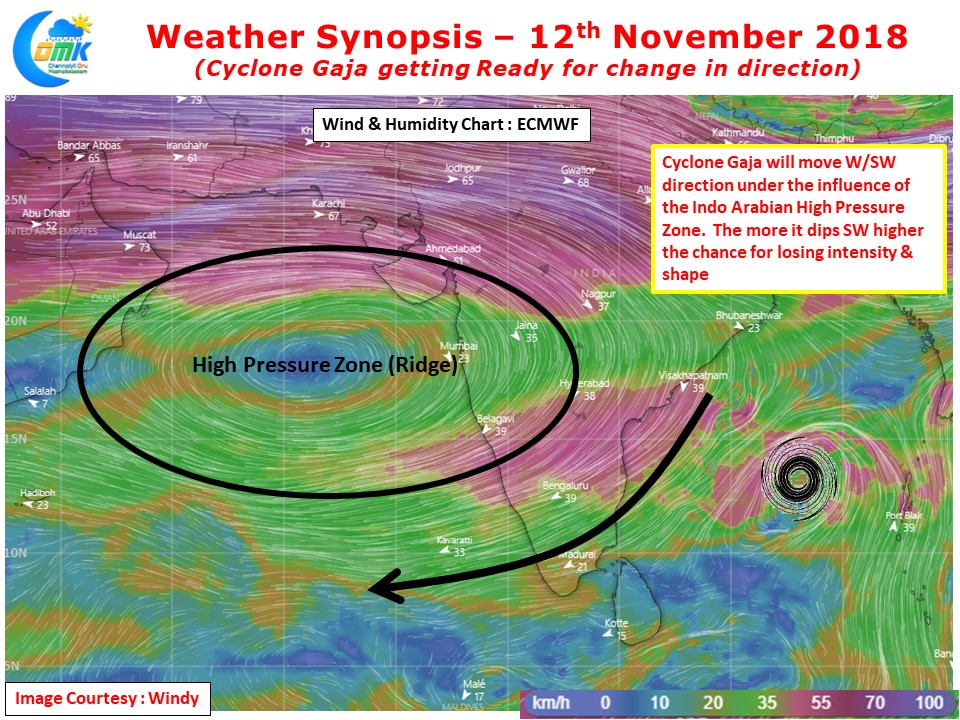 Keeping this context in mind we are fairly confident Cyclone Gaja has started the process of changing direction.  Looking at the wind charts we can also safely assume currently the cyclone is attached to the Indo Arabian Ridge which will guide it in a W/SW direction. This could mean the cone of uncertainity will now dip much to the South compared to what was originally estimated.
Currently the system has not organized completely with  no real tight wrapping of bands seen. While further intensification is seen for the system due to good oceanic conditions as it enters an area of moderate shear zone things could get difficult for the system to consolidate into a Severe Cyclonic system. Satellite images also clearly indicate a sheared system which does not augur well for the long term intensification trend.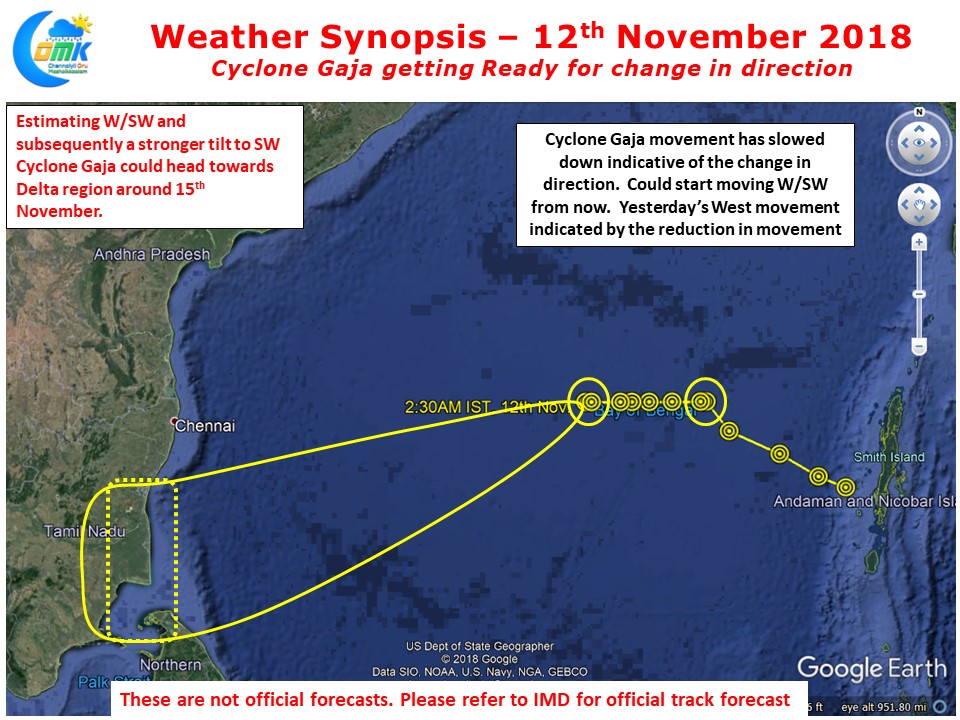 At COMK we are fairly confident Cyclone Gaja has started its W/SW movement since the early hours of today.  Considering the change in movement has started earlier than what models anticipated a day or so back we can possibly expect the landfall to be South of Puducherry.  The system is possibly heading towards Delta region during the early hours of 15th November.  The more the system dips south the higher the chances are for it to lose intensity.
While there is a fair degree of confidence on the broad area of landfall there still remains a fair bit of ambibuity on how intense the system would be at the time of landfall.  This means we may have to wait for some time to look at potential rainfall estimates as well due to Cyclone Gaja.  COMK will try to make a seperate post later in the day to provide a broad picture on what to expect on the rainfall front from Cyclone Gaja.