Its more than a month since Southwest Monsoon made its onset over Kerala and nearly a week since IMD announced the complete coverage of Monsoon over the Indian Sub Continent. But so far Monsoon has been good only in patches with a pseudo break period, though officially not announced by IMD, sneaking in between giving good rains to large parts of Tamil Nadu too.
But the look at weather charts over the next few days indicate the classic monsoon surge with a wonderful parabola arc type wind pattern seen in the Somali Jet Winds. The Southwest Monsoon as many would know takes its origin from the Mascarene High in the Southern Hemisphere off Madagascar Islands. In order to balance the Thermal Low over the Indian Sub Continent winds from Mascarene High. During this transit the Abyssinian Highlands or Ethiopian Highlands as its called in the modern days towering to more than 4000 Mts ASL at some points also play a role in deflecting these incoming winds onto Arabian Sea in addition to the spin of the Earth's rotation.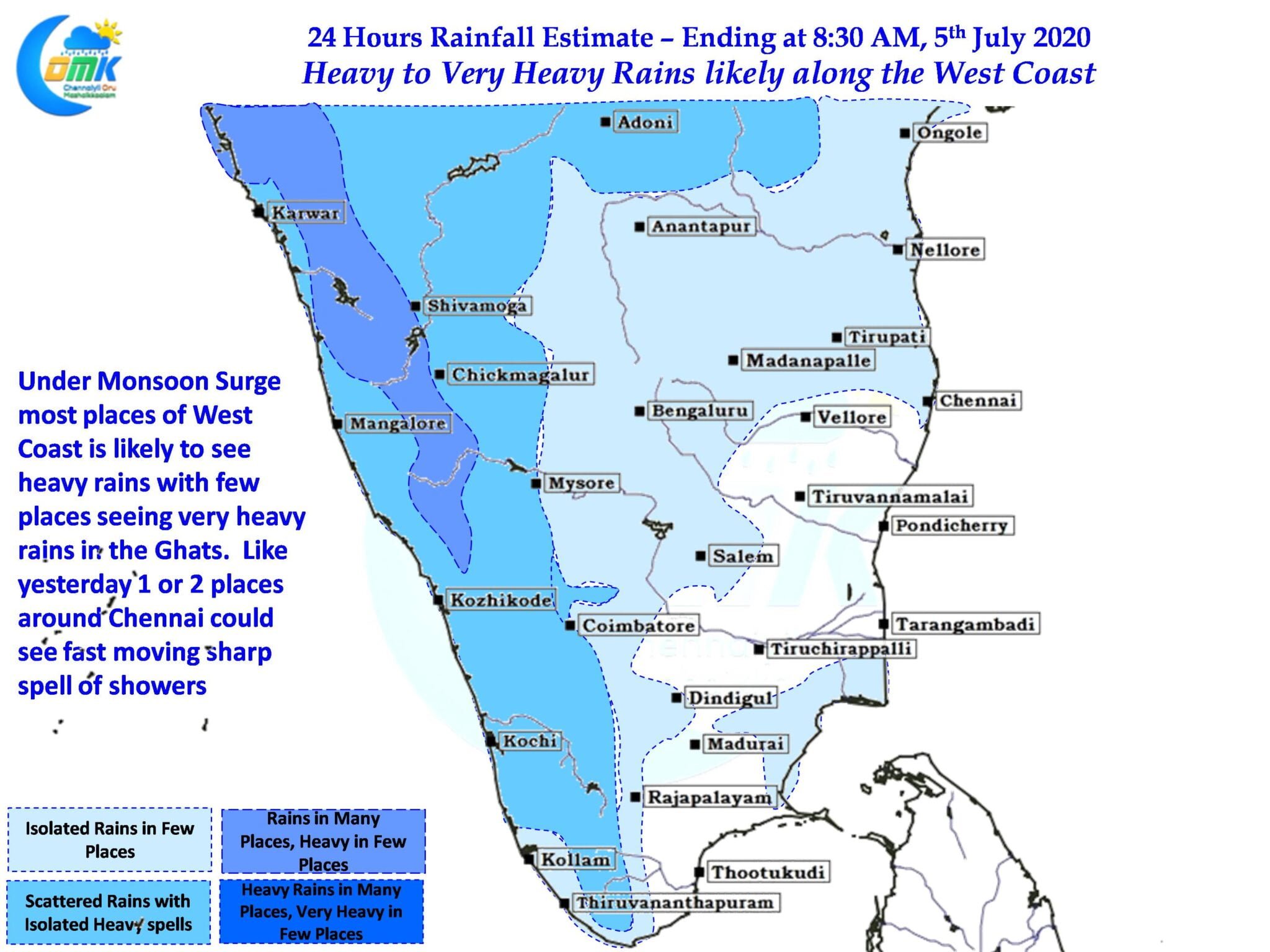 This parabolic arc of the Monsoon surge is now seen stretching all the way to North Konkan pretty much indicating the first active phase of Monsoon for West Coast which is likely to bring heavy to very heavy rains over few places in the Konkan Coast, South Gujarat, Coastal Karnataka while heavy rains is likely over few places in Kerala. Ghats in Tamil Nadu is likely to see moderate rains in a few places while isolated places could see heavy spells of rains.
While the plains of Tamil Nadu will see a reduction in thunderstorms today we could see some sharp spell of showers in 1 or 2 places around Chennai and adjoining areas of South AP though the rains are unlikely to be as heavy as yesterday which gave 4 / 5 cms of rains over few places along OMR / ECR.