On the bank of second Northeast Monsoon failure in 3 years Chennai Drinking Water Crisis is staring hard on the face of everyone. The water managers of the city are trying hard to find possible solutions to mitigate this crisis and formulate a survival plan until Northeast Monsoon 2019 which is nearly 9 months away.
As a small measure to sensitize our regular readers and the citizens of Chennai we at COMK have tried to create a Zero Day when the water from the lakes will dry up completely. Unlike Cape Town Chennai may not actually see a Zero day when the complete water supply was expected to go dry, Chennai has a few alternate sources that will maintain bare minimum water supplies. The objective of the post is not to scare but to create awareness on a ticking time bomb for Chennai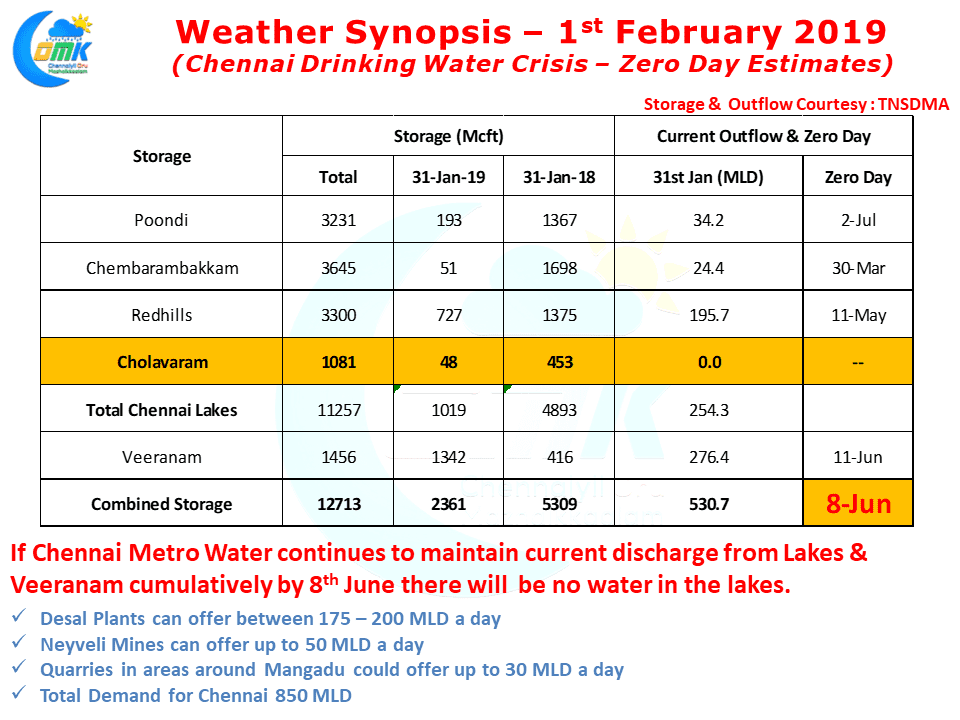 If one looks at the overall storage available we have roughly less than 20% of the total capacity including Veeranam which remains the biggest bonus for Chennai compared to last year having nearly 3 times storage compared to 2018. Overall storage though is less than half of last year.
Looking at the current storage & Discharge patterns as of 31st January by June 2019 all the lakes including Veeranam will go dry leading to a potential scenario of less than 300 MLD available against a total demand of 850 MLD as an optimistic estimate.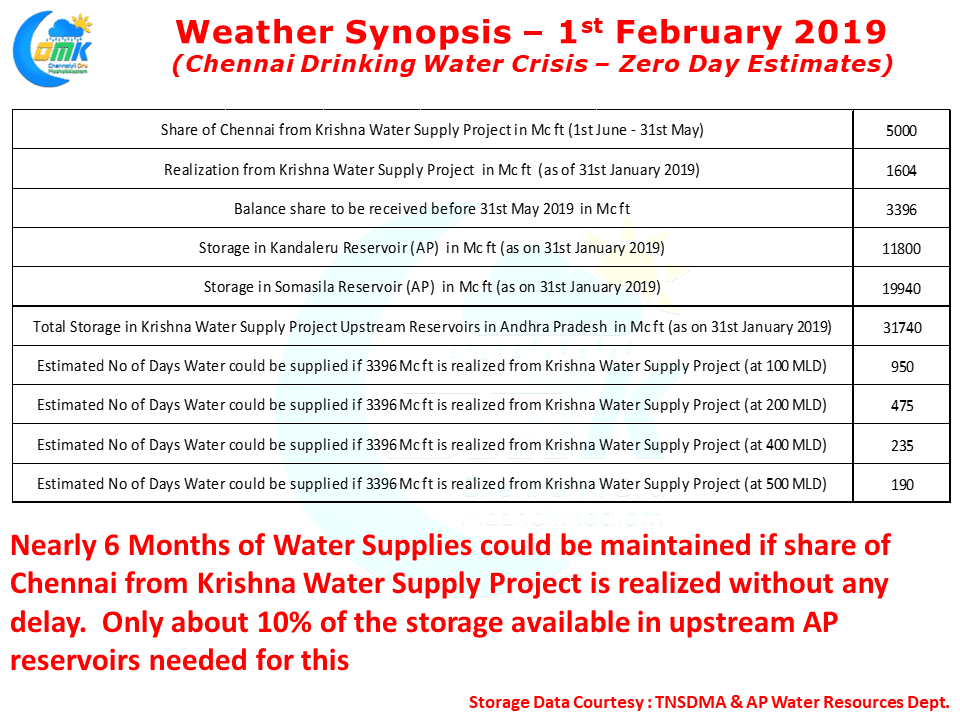 It is an irony though we are possibly not doing enough to get Chennai's annual share of 5 TMC from the Krishna Water Supply Project on a regular basis. With just 4 months left in the current water year (June to May) nearly 70% of the annual realization is yet to be received by Tamil Nadu. On the back of a good Southwest Monsoon 2018 in the catchment areas of Krishna Basin we should have made a better case of it when Northeast Monsoon 2019 was showing signs of failure.
As of today Andhra Pradesh has more than 30 TMC of storage against which only 3.4 TMC is needed to be given to Chennai which will go a long way in mitigating the drinking water crisis.