While Chennai has been spared of the heat wave conditions prevailing across large parts of the country the looming summer and the failure of last year's Northeast Monsoon has now set a ticking time bomb for Chennai.  A Drinking Water Crisis is now a certainty for Chennai unless a miracle happens.
Over the years the three reservoirs in Tiruvallur district along the Northern fringes of Chennai, Red Hills Cholavaram & Poondi, along with Chembarambakkam near Poonamallee have been the traditional drinking water sources for the capital of Tamil Nadu.  In the past when ever the city has seen shortage of water in the reservoirs the supply has been augmented by drawing water from sources like Veeranam Lake and old timers would recall the rail tankers that plied from Mettur a few decades back as well.  Subsequently Telugu Ganga Project was expected to give about 5 TMC water and two desalination plants have been added at Minjur at Nemili that provide about 100 MLD each at full capacity.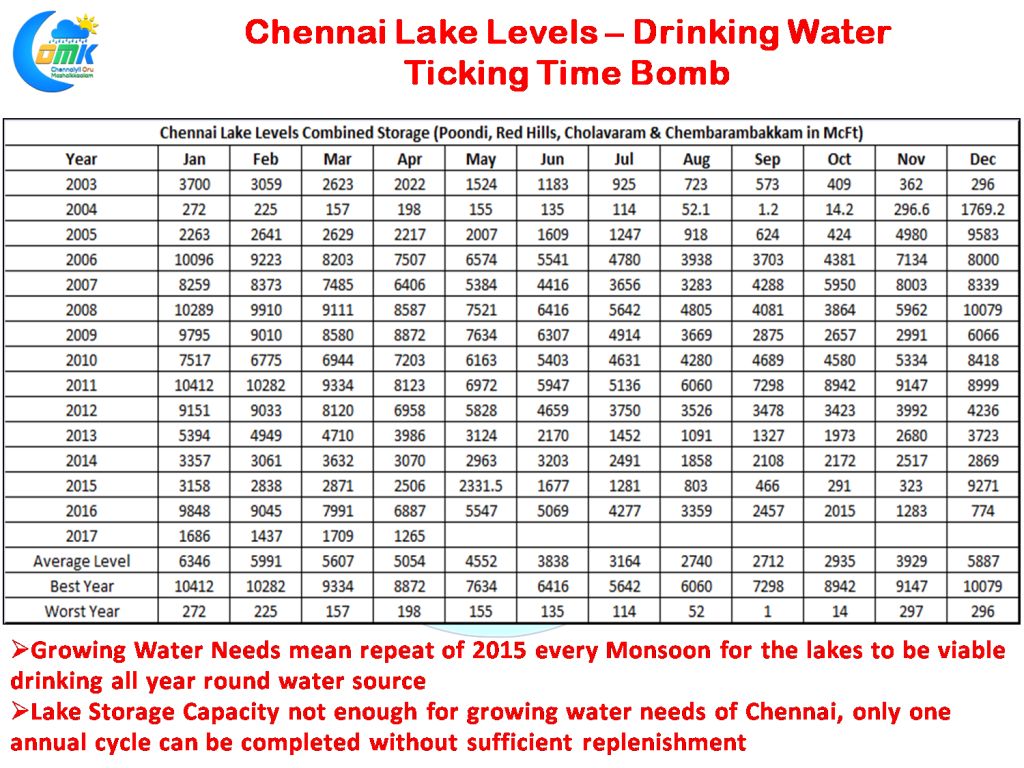 Let us look at the current reservoir levels to understand how the primary sources of drinking water fare as of now. The overall storage is at the second lowest level as of April since 2003.  The year 2004 saw the combined reservoir storage at 198 McFt the lowest in history since 1954.  As one can surmise from the chart at about 800 McFt draw every month the Lakes are unlikely to be a Year Long drinking water source unless we see a repeat of 2015 every year as the lakes cannot complete beyond one annual water cycle in normal course. It has taken only one failed monsoon for the water levels to reach dead storage already at Cholavaram & possibly Poondi getting added before Tamil New Year's Day.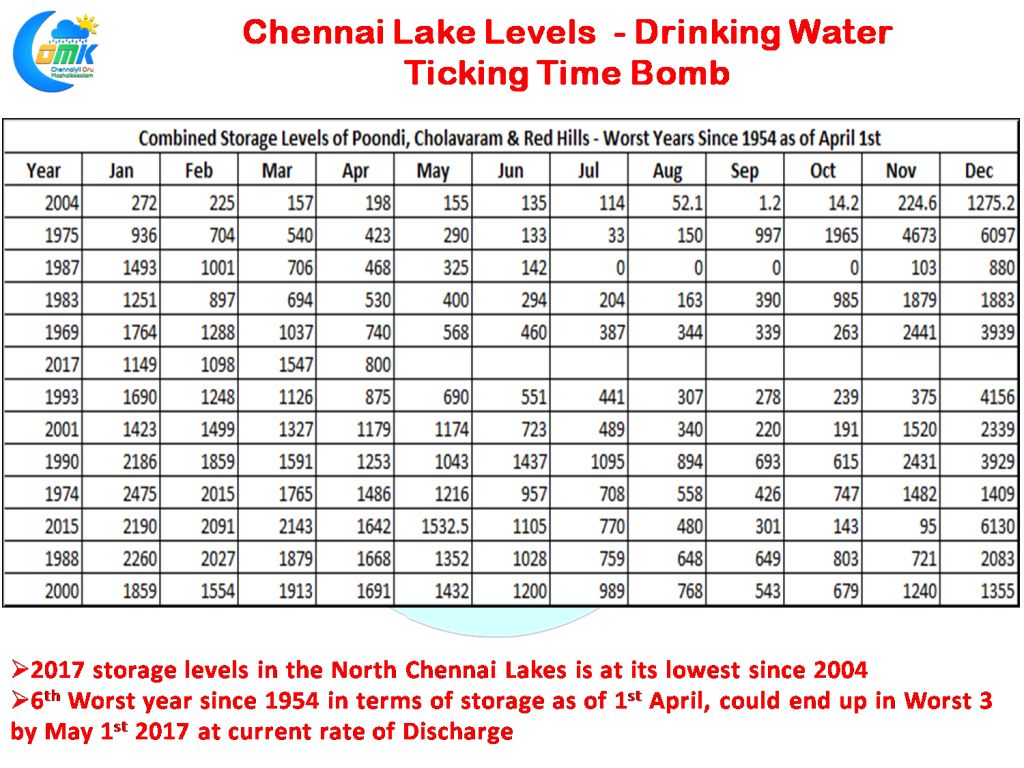 If one were to look at the North Chennai reservoirs 2017 levels are at their 6th worst level since 1954 and are likely to end up in the Worst 3 years by May and possibly going to reach dead storage levels even before the Summer is completed for Chennai.  This chart once again confirms the storage levels of the lakes are insufficient for the growing water needs of Chennai Metropolis.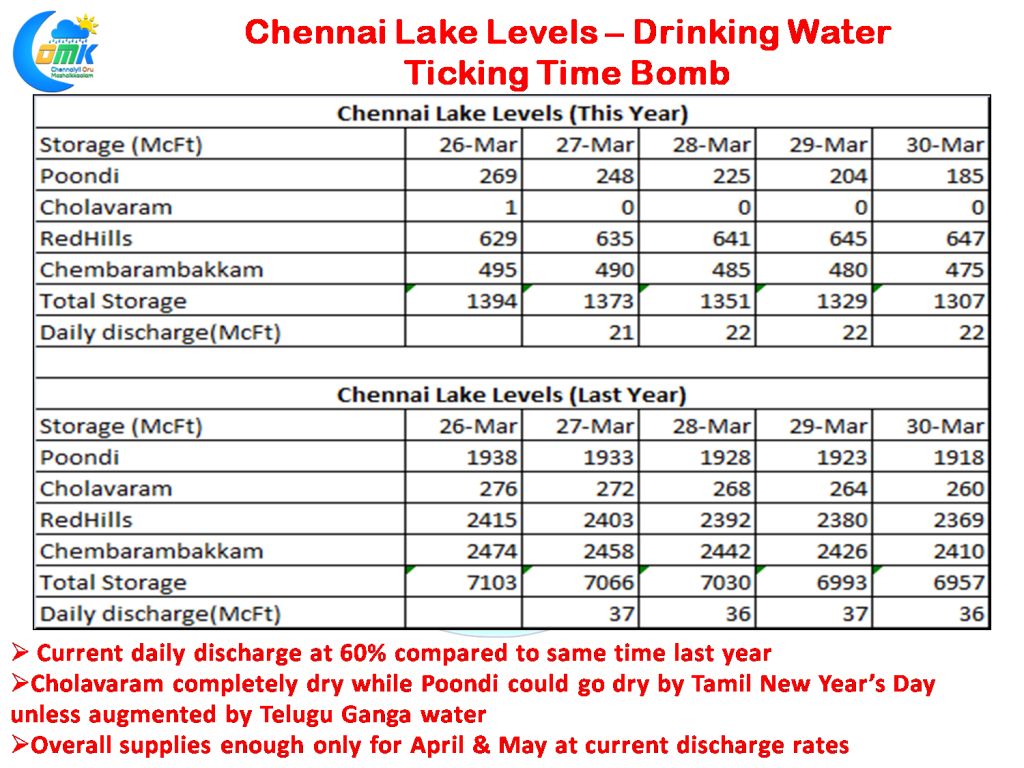 Chennai Metro water has already cut down the daily discharge rates for this year compared to last year as indicated by the charts and even going by the cut down discharge rates we are likely to see the current storage last up to May end possibly unless Telegu Ganga water augments in the remaining days.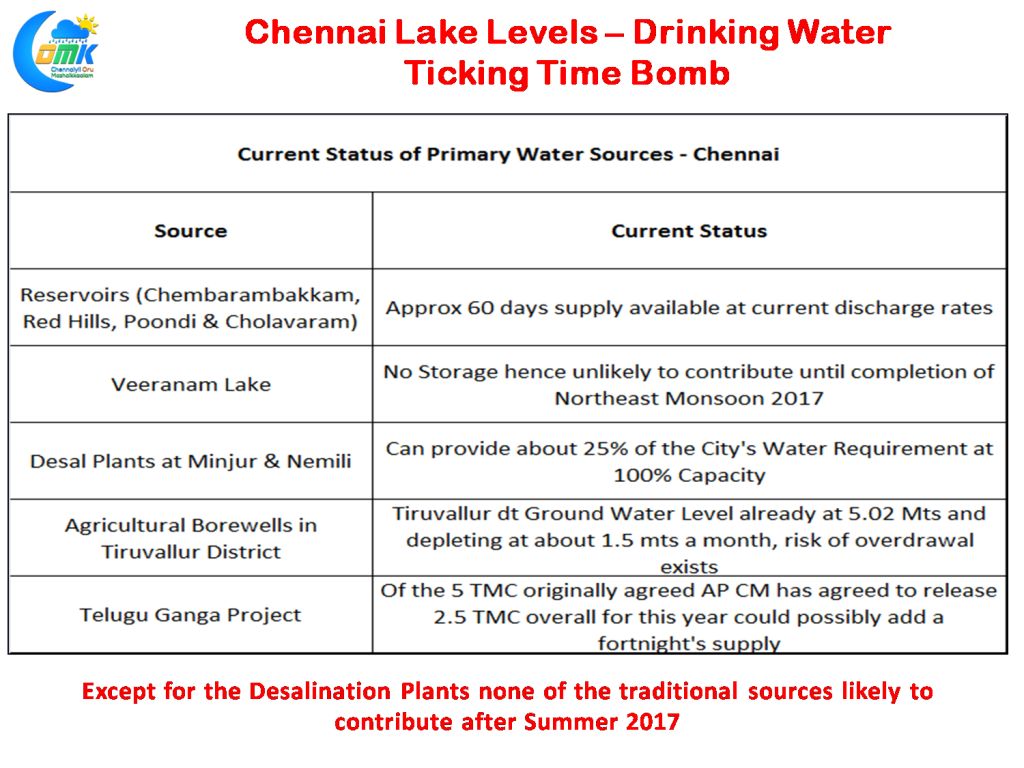 To sum up the current status of all the drinking water sources which Chennai Metro Water taps it does indeed look a grim prospect in the coming days unless a miracle happens.  With only the two De Sal plants effectively viable source of water after summer its going to take a lot of water management by Chennai Metro Water if the city does not see a full blown drinking water crisis.
Powered by WPeMatico