As has been the case all season long NEM 2018 is likely to see another chaotic fortnight ahead while we get to the last fortnight of what is traditionally the active season of Northeast Monsoon.  While many a time Northeast Monsoon extends well into January more often than not the active phase winds down by 3rd week of December across large parts of the state except extreme South TN and parts of Delta districts.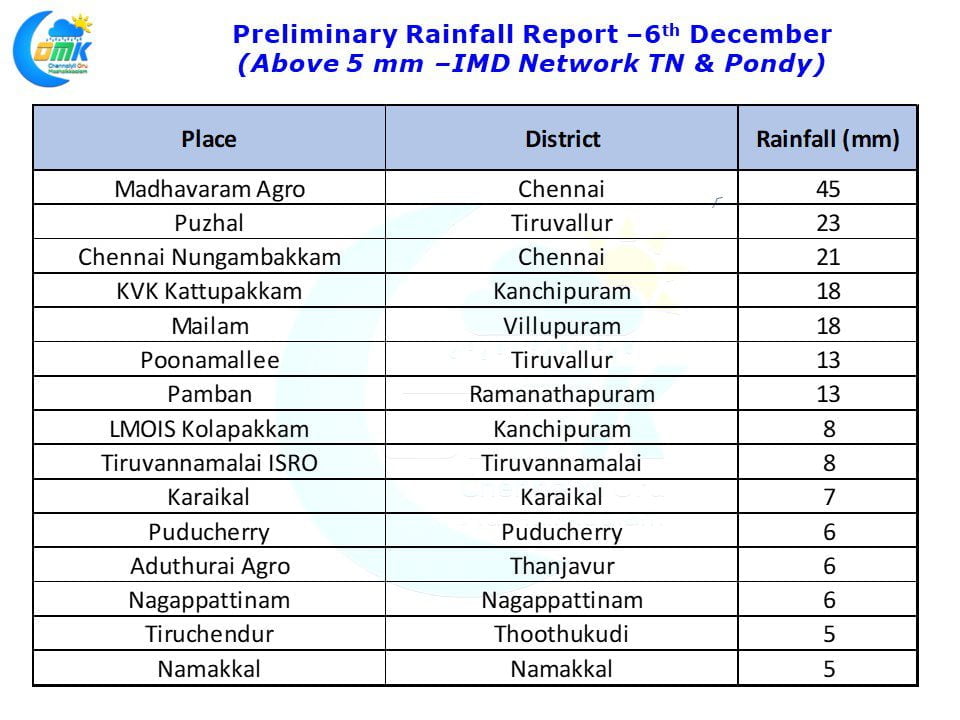 The Easterly wave added some more mm to the NEM 2018 kitty for Chennai and surrounding parts.  As has been the pattern suburbs of Chennai recorded the heavier spells compared to the city areas.  Madhavaram recorded 45 mm as of today morning.  Nungambakkam recorded one burst of rains from the last spell to hit North Coastal TN last night.  Chennai still has a mountain to climb with 40 & 60 cms needed for Meenambakkam & Nungambakkam to reach the annual quota of rains.
As mentioned in the opening remarks of today's post the upcoming fortnight is going to be not only chaotic but also critical on whether NEM 2018 ends in the right side of rainfall statistics.  With nearly 116 mm needed to reach the Northeast Monsoon seasonal total of 440 mm every mm will count from now on.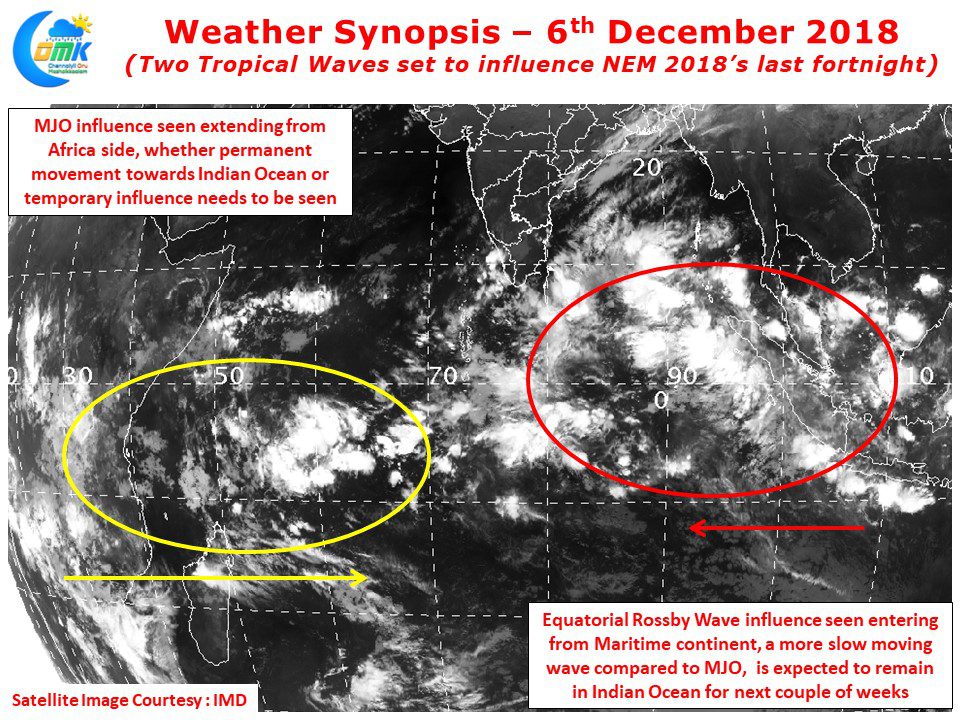 The interplay between two contrasting waves entering Indian Ocean from the opposite directions holds the key on how the next fortnight will be shaped.  Satellite images show western part of Indian Ocean already seeing possible influence of MJO coming in from Africa.  There is some ambiguity whether this entry is going to be a permanent West to East movement as part of its loop across the globe or a temporary influence.  This MJO influence is likely to make things conducive for disturbances to develop and increase in intensity of rainfall events.
The entry of Equatorial Rossby wave from the East is likely to be a joker in the pack.  With ITCZ already south of Equator this entry of ER wave could skew the MJO influence more towards Southern Hemisphere.  If the ER wave limits the influence of MJO closer to Equator possibly that could mean disturbances may take genesis at lower latitudes which could benefit Tamil Nadu
As things stand we are likely to see possible genesis in the lower latitudes of Indian Ocean.  December cyclones tend to strictly follow protocol with no major deviations in terms of tracks as the High pressure zones are much firmer compared to November.  A close look at the IMD Cyclone eAtlas reveals a slight shift of genesis to either East or West could mean the track may become Northward or Westward.  Hence it may make sense to wait until genesis before deciding on potential intensity / track / landfall and impacts.