Yesterday saw Delta areas of Coastal Tamil Nadu get struck by a freak set of rainfall events around Karaikal & Nagappattinam region.  Karaikal recorded 142 mm rainfall in three hour span between 8:30 AM and 11:30 AM yesterday of which more than 10 cms of rains fell in the two hours between 9:30 and 11:30 AM. In all for the day Karaikal has recorded about 17 cms while neighbouring Nagappattinam, less than 30 kms away, recorded about 85 mm rains for the same period.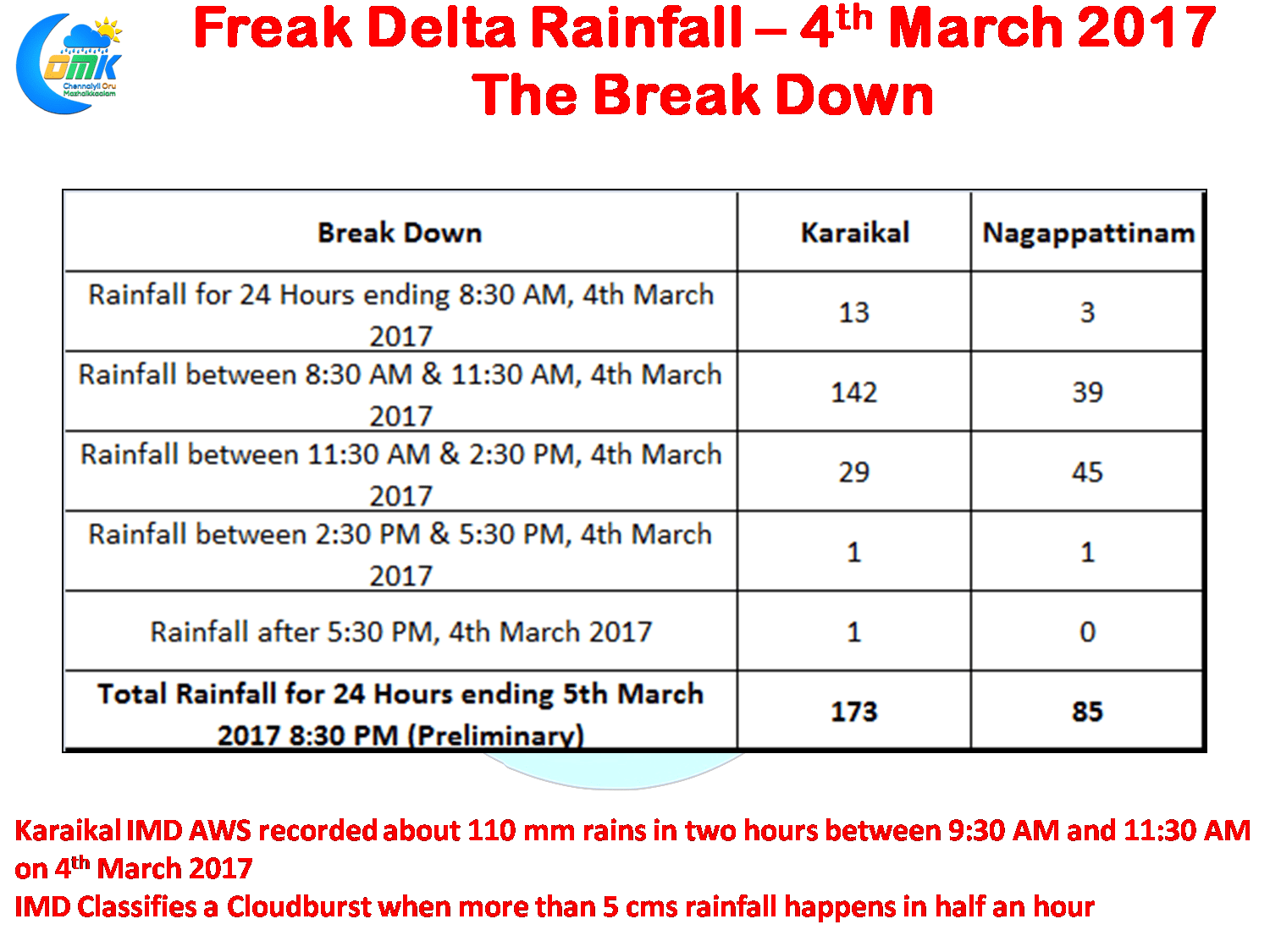 Satellite Images certainly did not reveal the true extent of the rainfall with the INSAT3D MultiSpectral Rainfall Estimator peaking at about 6 mm rainfall an hour at about 11:00 AM IST.  Though Satellite Images pretty much confirmed how localized the event was with the heaviest rainfall falling in the narrow band of coastal area between Vedaranyam and Nagappattinam with Karaikal possibly bearing the brunt.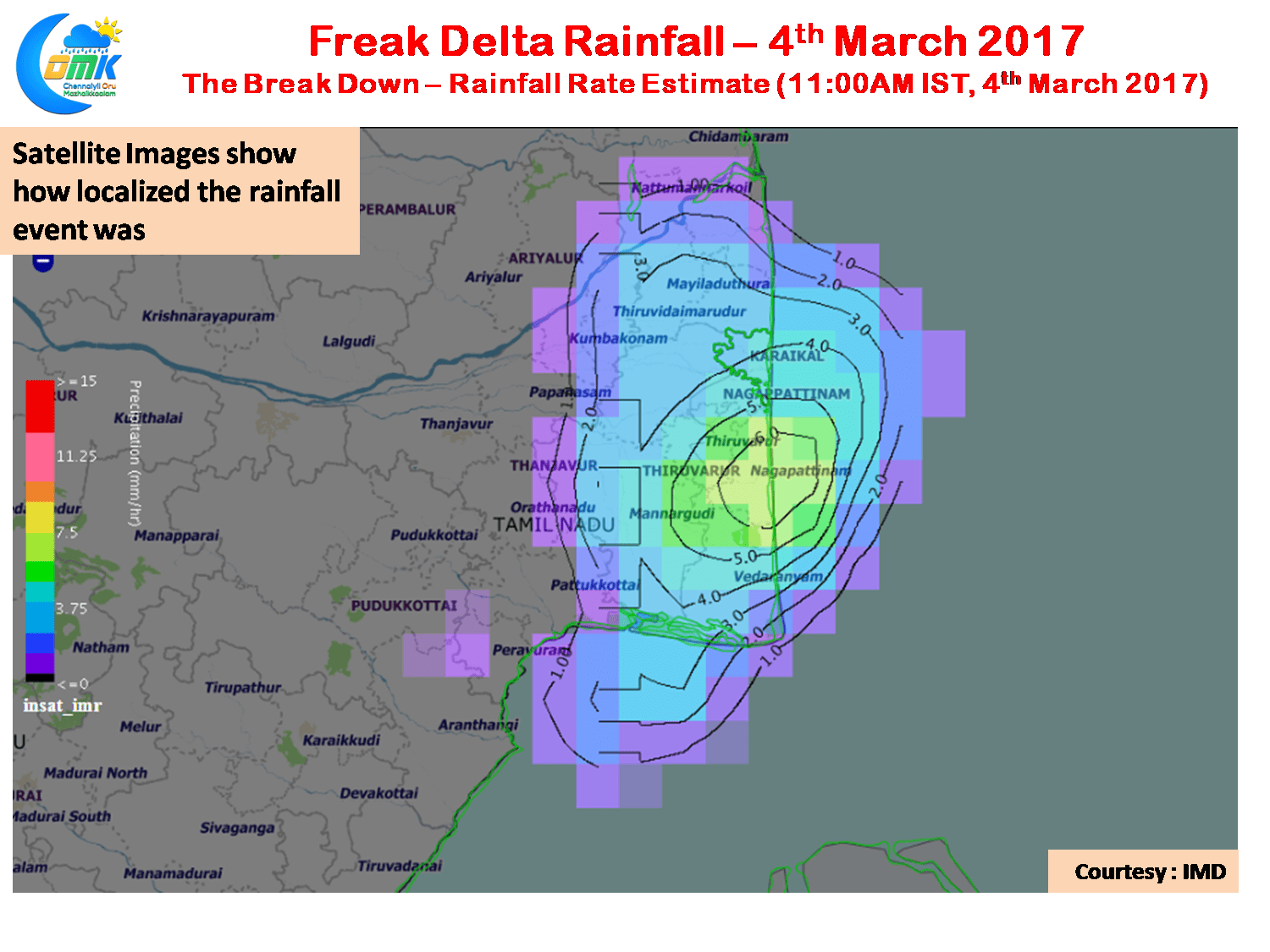 While the mean sea level trough does exist on either side of the Indian Sub Continent along the Equatorial waters things are likely to ease from today with possibly the effect of trough fading away.  Also going by model outputs the Wind Confluence that was the trigger for the rains in the interior areas along the Western Ghats seems to be less pronounced compared to yesterday which could also play a role in the rainfall intensity and the spatial spread.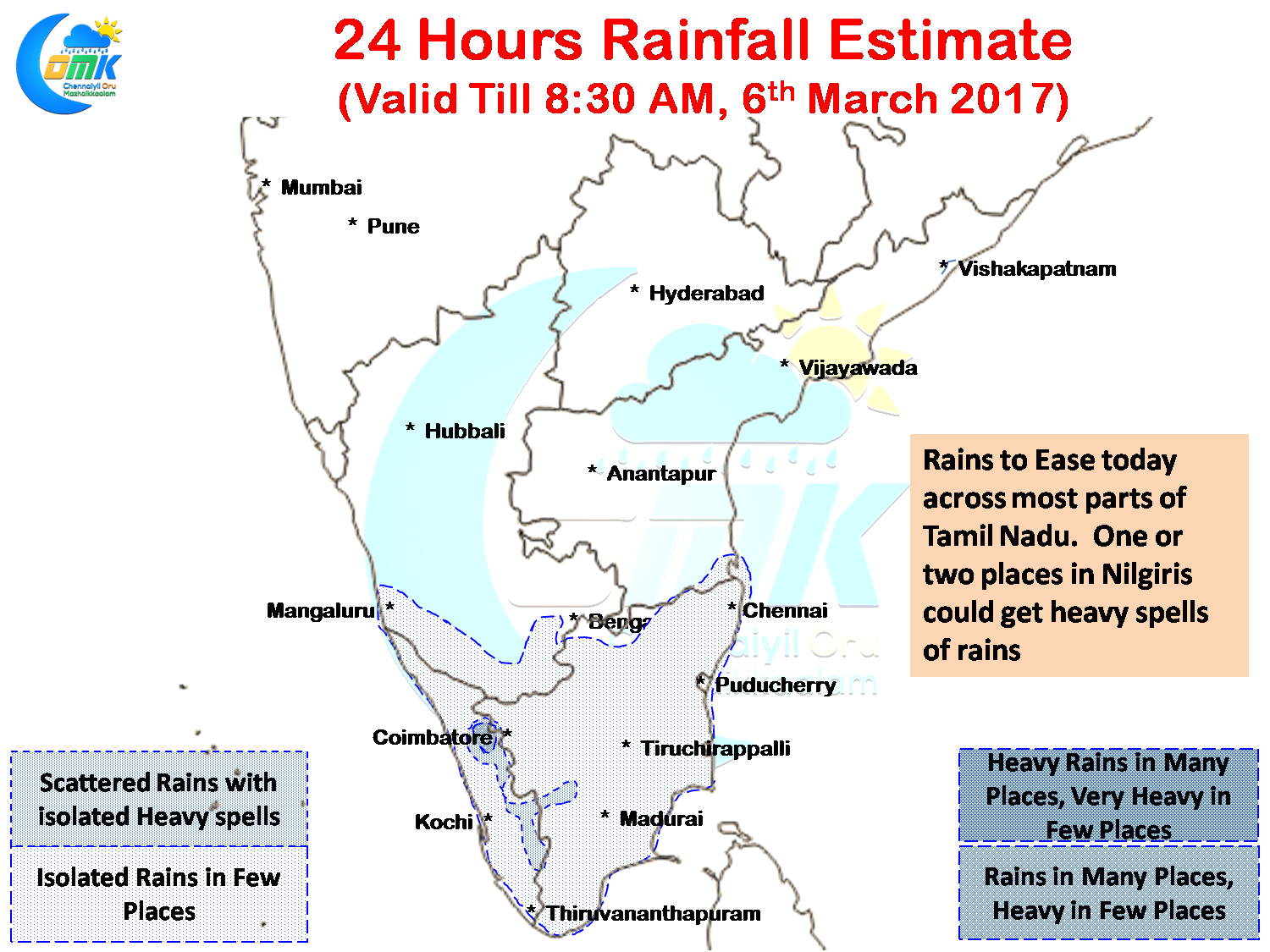 Nevertheless today also we are likely to see some isolated rains over many parts of Tamil Nadu with one or two places getting moderate to heavy spells of rains at times.  Possibly like yesterday the places along the Western Ghats will be in line for the heaviest rains of the region today as well.  One or two places in the Nilgiris / Wayanad region could record some heavy spells of rains during the course of the day. Overall the high ranges of Kerala stand to gain from a decent spell of rains today as well.
The wind pattern does not seem to favor Chennai as far as rainfall goes so it would make sense not to expect anything major for the city going by model estimates.  We could see a fairly warm day in Chennai with high humidity making it an uncomfortable day overall.
Powered by WPeMatico