The last few days have seen parts of South Tamil Nadu recieve rains like a peak Northeast Monsoon day as convective thunderstorms made the best out of conditions that are not often seen. Bright sunshine & heat from summer days and abundant moisture supplied from a near stationary circulation creating perfect conditions for not only widespread rains over the region but extremely intense spells as well in many places along the Western Ghats.
Yesterday was no different with places in Tenkasi district coming under some very intense spell of rains during the evening hours while many places in the state recorded including some drizzle around the southern suburbs of Chennai during the early morning hours. Even Gingee which had been seeing relatively quiet days for the past few weeks saw thunderstorms return though it was not very heavy.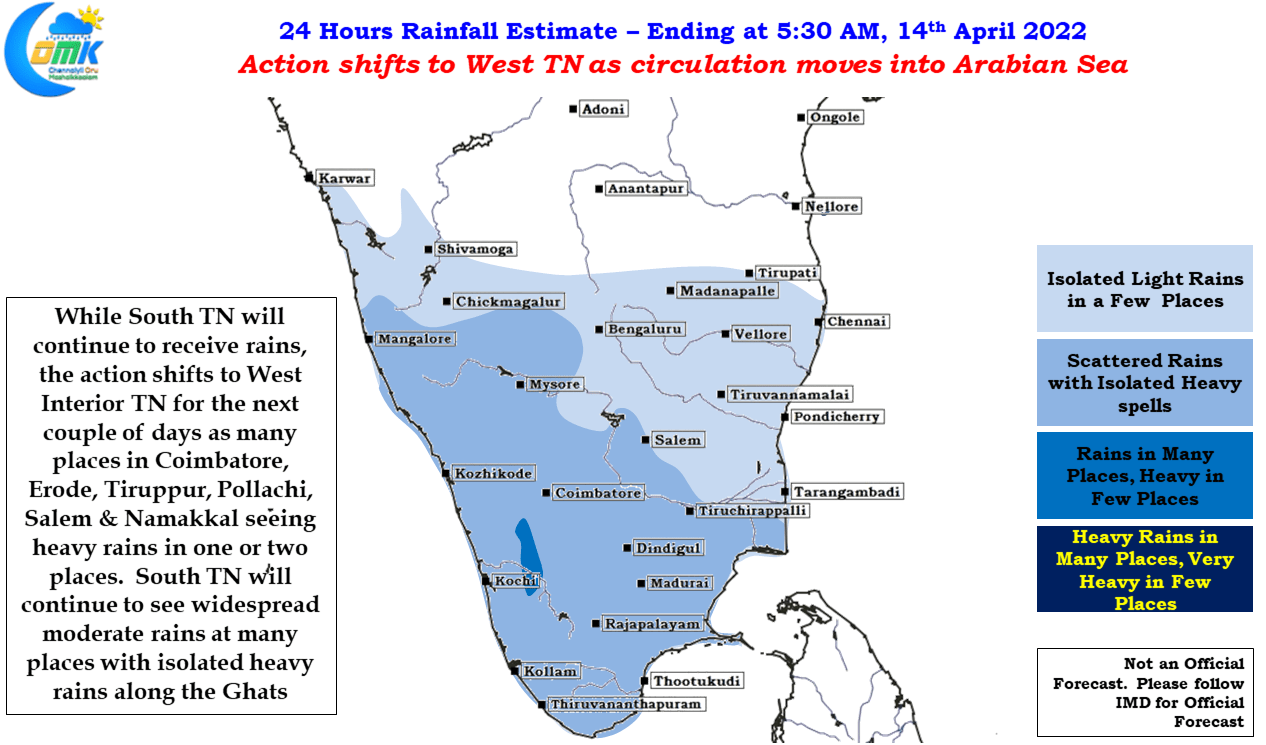 With the Upper Air Cyclonic circulation that was straddling the Comorin Sea & Gulf of Mannar region staying in a near stationary position the last couple of days saw South TN seeing widespread rains. Weather models indicate the UAC to move into Arabian Sea today which will shift the action to West TN for the next couple of days. While this does not mean South TN will see a complete cessation of rains but the heavier rains will be over West Interior TN today & tomorrow particularly closer to the Ghats as moisture trapped by Western Ghats will aid the convective thunderstorms to develop & thrive.
North Coastal TN may see a few places get light to moderate rains under the effect of moisture drag but bulk of action is likely to remain in the interior places. Southern suburbs of Chennai may see one or two spells of light rains during the morning hours.