Southwest Monsoon under the influence of the low pressure now lying over Odisha / Chhattisgarh region is expected to be vigorous over the West Coast for the next couple of days. In particular the Konkan coast will possibly see it's heaviest spell of rains of the season so far.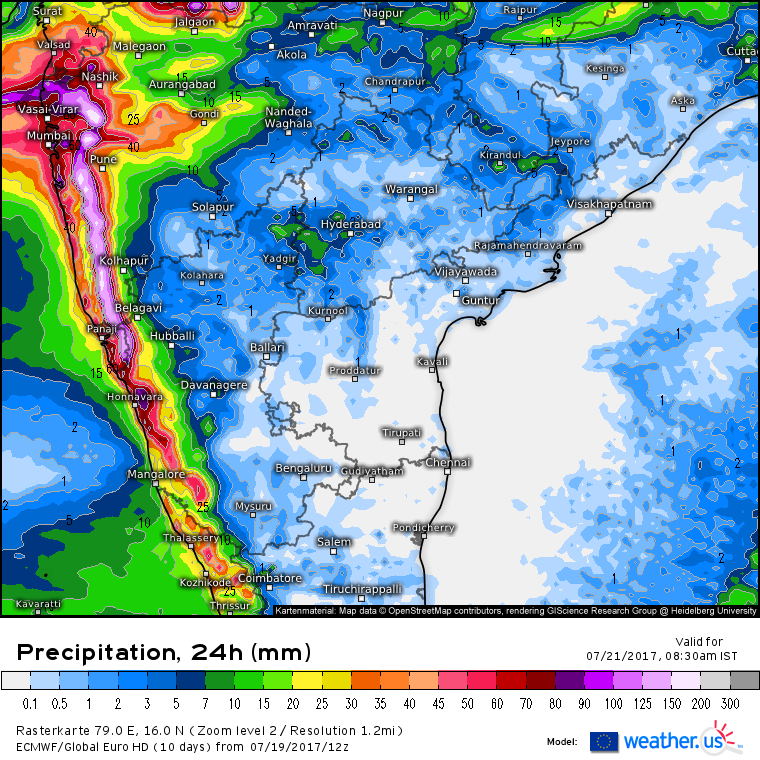 The Western Metropolis of Mumbai could be in line for heavy rains as the Shayadri Range bears the brunt of the monsoon surge created by the west moving low pressure system. Places in Ratnagiri, Satara districts over the Western Ghats could see some heavy spells of rains right through the day.
Closer home coastal Karnataka and parts of Kerala along with the places in Western Ghats like Nilgiris and Valparai could see isolated heavy rains.
The Cauvery catchment areas in Kodagu district has been recording good rains for the last couple of days which has given an increase of 0.5 TMC in both Harangi and Hemavathi while Kabini has also managed to see an increased inflow of 7000 cusecs.
Coastal Tamil Nadu could see isolated thunderstorms develop like yesterday. With models indicating a slightly hotter day across most parts of the state we could possibly see sea breeze come into play triggering one or two stronger thunderstorms. Along with rest of the coastal areas Chennai also has a chance later in the evening.